In honor of my very first ever guest contributor post on Allwomenstalk.com I wanted to revamp my post I made for their site 8 Ways To Be Stylish On A Budget that I wrote in 2014. It's been 4 years since that post and let me tell you some things have really changed. Fashion has definitely taken a turn and there are so many new styles, trends and fashion rules now. For me I follow one important rule which is BE YOURSELF. I know that sounds cliche but it's so true. If you're walking around in an outfit you saw online or saw a celebrity wearing but you don't feel comfortable in it, it doesn't matter how amazing the outfit looked on the person you saw it on first it's not going to have the same look or feeling for you. Because it's not your style. You want to find your style first and that will help you pick pieces you can mix and match and wear again and again and more importantly own that look and feel comfortable and KNOW you look good too.
So with that said I'm rounding up and sharing my top 6 tips to being stylish on a budget and a few of these tips are actually the same as in my first article because they're so important and are still true to revamping your style every time:
1. Know YOUR body and Find YOUR Style
You want to find bloggers, celebs, people in magazines and even stylish people on the street that have your body shape and body type to model your style after. Wearing ill fitting clothing or patterns in a way thats not flattering for your body is the quickest way to make an outfit go from stylish to a hot mess so quick. Like me for example, I'm tall (5'8") and most of my height is in my legs (37" inseam) so bermuda shorts are a no for me. They make my body look awkward, they usually squeeze my thighs and above my knee and I'm just uncomfortable in them all day and you can tell, lol. So I steer clear of them but I find ways around that because they are so cute when worn right. I get more of a mid-rise short with 5-7″ inseams instead (Old Navy has some great options) which is like a short length bermuda. They don't come down as long as a regular length bermuda shorts would and they aren't as form fitting on the legs but still give you that bermuda shorts feel. I also have a bubble butt that sits high so when I get pants sometimes they fit everywhere but the waist or everywhere but the legs. I tend to shop places that accommodate for tall women (Alloy.com or Asos.com have great tall options). So with that said, if you're more bottom heavy or have long legs make sure you're finding shorts, pants and jeans that aren't cutting into your legs, butt and thighs or are too baggy and making your lower half look bigger in a bad way (we all want a nice looking bum but we have to do it right, lol.) If you're more top heavy than find clothing like dresses and tops that fit your top half both comfortably and fits your shape the right way and that is the key. You don't want buttons looking like they're going to pop any second or a dress that's cutting your body in a weird way that makes you look squatty or oddly shaped. Once you find clothing that fits you that's when you're able to just focus on picking pieces that you can interchange and wear different ways without having to worry about if the fit is right. Also taking your body measurements helps when shopping online because you can look at the sites size chart before choosing your sizing options which usually helps with eliminating getting things in the mail and having to send them back or take them into your local store to exchange it for something that fits right.
2. FIND THE SALES!
The best thing about online shopping and even when you're shopping in the store is that there's always a sale going on. Especially with highly trendworthy outfits and online boutiques. Things that are hot and in right now may very well be out in the next month or so. That's the way the fashion industry works. So when getting on trend clothes you want to save your money here because they could be in today and out tomorrow and then you're stuck with clothing that you spent so much money on but don't want to wear anymore because it's not in style. Whenever you find a new boutique or a new clothing site, take some time to google if there are coupons or if any bloggers have coupon codes for that specific site available. That way the on trend pieces you're buying aren't such a stressful investment when they could go out of style any minute. Also look and see if the company has their own coupons or sales. Old Navy, PRETTYLITTLETHING, FashionNova and many other clothing companies always have some sort of sale or coupons available so you're always able to save some coin when you shop so you don't feel so bad about your recent purchases. Save your money on the more big ticket, never going out of style pieces like a Louis Vuitton Speedy or a really nice Trenchcoat or those black pumps you've had your eye on from Christian Louboutin that you know will just gracefully age with time. This was an awesome way for me to always update my wardrobe without breaking the bank. Especially when I was in college and a single mom, every dime counts. ;0)
3. Buy, Sell and Trade
There are so many ways now that you can change up your wardrobe sometimes without even having to spend more money. Places like Platos Closet or a Thrift Store that buys old clothes you don't want anymore can help you clean out your closet while getting new things right away. If you can wait a little I love selling things on Ebay.com because it's so easy and quick. Take pictures of the clothes, post them on the site with a little description of outfit and condition, set your prices or your starting bid and sit back and watch the money roll in. That takes the pressure off of taking your clothes back and forth to different stores trying to sell everything off. For more expensive items you can use Poshmark, they are great for selling those name brand items that you don't want to just give away or sell for $1. Hey like I said before, trends come and go so you always want to find cheaper ways of getting new things while not feeling so bad about letting go of the old.
4. DIY
DIYin is all the rage these days. You saw a cute off the shoulder graphic t-shirt a celeb was wearing but don't want to spend the $100 price tag just go to Walmart or Five Below and grab you a few cheap band tees (both sell super cute graphic tees for $5) and watch a tutorial on how to cut a regular t-shirt into an off the shoulder shirt. It took me all of 10 mins to make a few off the shoulder tees I can wear to run errands or hang out or even around the house and still look cute for a fraction of the cost. Want some cute high waisted jean shorts but don't have the money to get brand new ones right now? Look in your closet, a friends closet or your moms and get old jeans that you or they don't want or even take a trip to the local Goodwill or thrift store in your area and grab some mom jeans that fit you well. Cut them into shorts, add some studs, distress them, etc and you've just saved $100+ on some on trend high-waisted shorts while spending all of $20 or less.
5. Borrow
Your sister, friend, mom or grandma will have something you'd love to wear. Whether it's the beautiful vintage earrings, that designer bag you've had your eye on but can't afford or that LBD you've had your eye on. Borrowing can help save tons of money and still have you looking fabulous without having to spend a dime. The best part is you can always wear it again so it's like you bought it yourself, as long as you make sure that's ok with who you borrowed it from, lol.
6. Mix and Match
My final tip is one i've said time and time again. Take something from one season and remix it to turn it into a fall or winter item with some layering. Turn that summer dress into a fall outfit by adding tights or leggings, add a scarf, a hat or a sweater. Turn those summer favorite high-waisted shorts into a fall outfit by tucking in a long sleeve flannel shirt, layering it with a cute cardigan and adding some fall essentials. Be creative, you don't have to buy a whole new wardrobe for each season if you can't afford it or even if you can. Save money by being creative with what you have. It's what really shows your style and your ability to adapt to different seasons or trends without breaking the bank or maybe not even spending any money at all.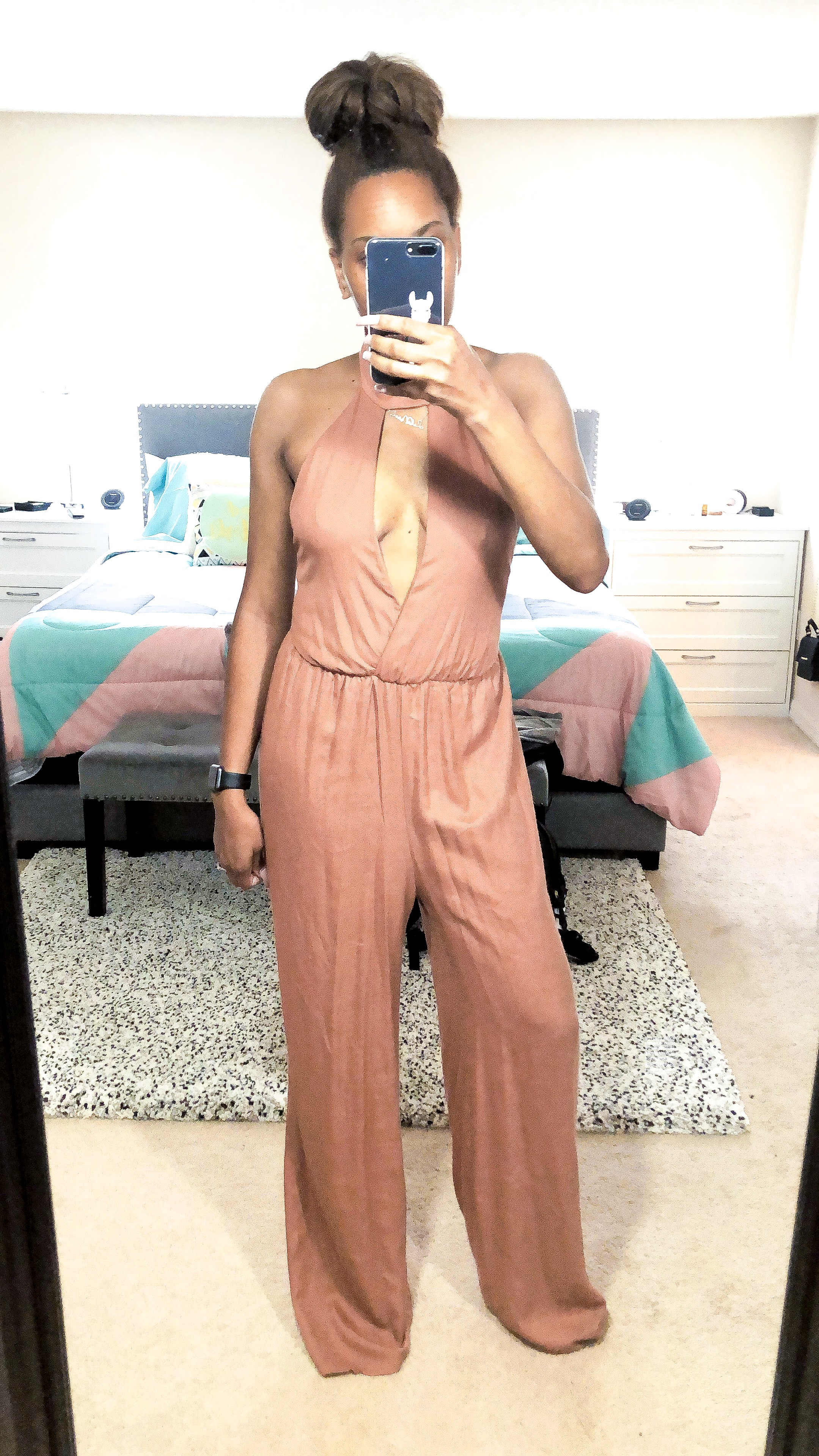 Jumpsuit Options ("Madison Jumpsuit" Shown is Sold Out)
I hope these top 6 tips help you with revamping your wardrobe or building a whole new one. We all love to shop, whether it be for new clothes or accessories. The best part is these tips can be used for pretty much anything. Whether you want to revamp your home with new furniture or a new look or you want to change up your decor. You can take these tips and apply them to home decor as well and still save money. I have a few tips on revamping your bedroom and your livingroom on my blog as well that I will link here Farmhouse Inspired Livingroom Revamp and here Master Bedroom Revamp so you can go check those out as well.
Outfit Details of Featured Photo:
Joah Brown Get It Pullover
Alloy Tall Jeans Options
Women's Karoline Backless Loafer Mules – A New Day™ Black
No Boundaries Velvet Mini Backpack
Cat Eye Sunglasses Options
FIT TIPS:
-Jumpsuit runs TTS. I'm wearing a size Large.


Sizing Reference:
I'm 5'8″. Typically wear 9-9.5 in shoes and a size 10 if they run small. M/L in tops and dresses. 6-8 in Jeans depending on make and brand.
I hope you loves have a beautiful Friday and I hope these tips help you to start building the wardrobe of your dreams.
Always Remember You're Beautiful!
-Lola