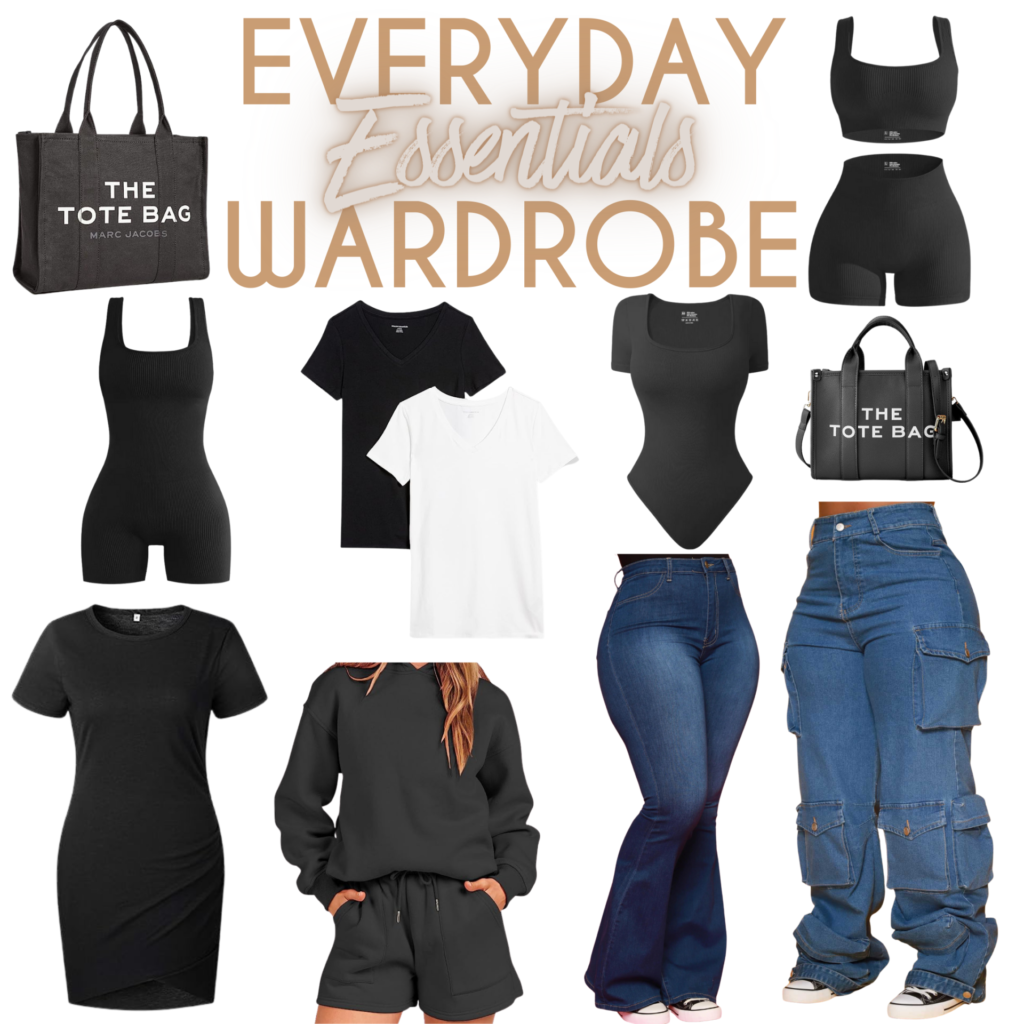 Welcome back to the blog! Today, we're diving into fashion and discussing, What's in my Amazon cart: Everyday Basics for fundamental pieces that form the backbone of a versatile and chic daily wardrobe. From classic to contemporary, these everyday basics are the key to effortless style and comfort for any occasion. I've put together a curated list of wardrobe staples that I believe everyone needs in their closet. These pieces will keep you looking and feeling confident throughout your day-to-day life.
The Perfect Tee, A Button-Down Top, and Bodysuits:
To start building your daily wardrobe, you can't go wrong with the perfect tee, a classic button-down top, and some versatile bodysuits. The black shirt that fits just right or a crisp white tee and jeans are timeless essentials that complement almost any outfit. Whether paired with jeans, skirts, or under a blazer, a well-fitted tee brings freshness and simplicity to your look. Invest in high-quality materials like cotton for longevity and a flattering fit. For a touch of flair, consider adding some graphic oversized tees to your collection. As for bodysuits, they provide a tucked-in look without the hassle of constant readjustment. Snap crotch bodysuits offer countless outfit possibilities with just a few bottoms, making them an essential addition to your wardrobe.
Classic Blue Jeans:
Finding the perfect pair of classic blue jeans can be a challenge, especially for tall individuals like me. But a well-fitted pair is the epitome of versatility. Dress them up with a blouse and heels for a more polished look or go casual with a graphic tee and sneakers. Opt for a style that complements your body shape and choose a medium wash for maximum adaptability.
Little Black Dress (LBD):
Every fashion-conscious individual knows the power of a little black dress. Having options in different lengths allows you to be ready for any occasion. Whether it's a slightly sexy LBD for a night out, a more work-appropriate version that can be dressed up for after-work drinks, or a comfy dress for running errands in style, the LBD effortlessly transitions from day to night.
A Cozy Cardigan:
For those chilly days and evenings, a cozy cardigan is a must-have. Whether it's a chunky knit or a lightweight layer, a cardigan adds warmth and style to any outfit. Neutral tones work best for easy pairing with the rest of your wardrobe, but don't hesitate to add a fun cardigan to your collection for a touch of personality.
Tailored Blazer:
A well-tailored blazer instantly elevates any ensemble. It can effortlessly transition from a formal setting to a casual one. Worn over a blouse, tee, or dress, a blazer brings sophistication and structure to your look. Classic colors like black, grey, and navy blue offer a timeless appeal, while adding a fun print blazer can infuse some excitement into your wardrobe.
Comfy Leggings, Biker Shorts, and Ribbed Sets:
For ultimate comfort without compromising style, invest in quality leggings, biker shorts, and ribbed sets. Leggings and biker shorts are perfect for casual outings, workouts, or lounging at home. The versatility of ribbed sets, jumpsuits, and shorts styles offers stylish and comfortable options for various occasions. Mix and match with oversized tees and sneakers for a trendy look.
Essential Sneakers:
Comfortable and stylish sneakers are a must for any wardrobe. They're perfect for running errands, going on walks, or adding a sporty touch to your outfits. Whether you prefer neutral colors like black or white for easy pairing or opt for colorful ones to spice up your style, having a reliable pair of sneakers is essential for your daily wardrobe.
Chic Tote Bag:
A chic tote bag is an ideal companion to carry your daily essentials in style. Opt for a durable and spacious design that complements your personality and outfits. While luxury brands like Louis Vuitton and Marc Jacobs offer timeless appeal, you can also find affordable and cute everyday bags for different occasions.
The Perfect Sweats:
A comfy pair of sweats and an oversized hoodie are always a needed and welcomed staple in my wardrobe. It's the ideal easy-to-throw on, comfortable-to-wear outfit. Running errands, doctor's appointments, grabbing lunch. Whatever the casual occasion there's a cute and comfy sweatsuit for it. Opt for a durable, nice material like 100% cotton for long-lasting comfort.
So these are all the essential everyday basics I feel that you will need to either start or revamp your wardrobe. Whether you're trying to downsize, make your everyday dressing a little easier, change up your style, or try something new. This will form the foundation for your daily wardrobe. These timeless pieces offer endless possibilities for creating stylish and comfortable outfits for any occasion. Remember, investing in high-quality items ensures longevity and helps you build a wardrobe that you'll love for years to come. But that also doesn't mean you have to spend a million bucks. You just have to dig a little deeper to find the good stuff or follow my blog and check out the affordable finds I post on here weekly. With these everyday basics at your disposal, you'll always be ready to take on the world with confidence.
Always Remember You're Beautiful!

Disclosure: This post contains affiliate links. I may earn a small commission at no additional cost to you if you purchase from these links.