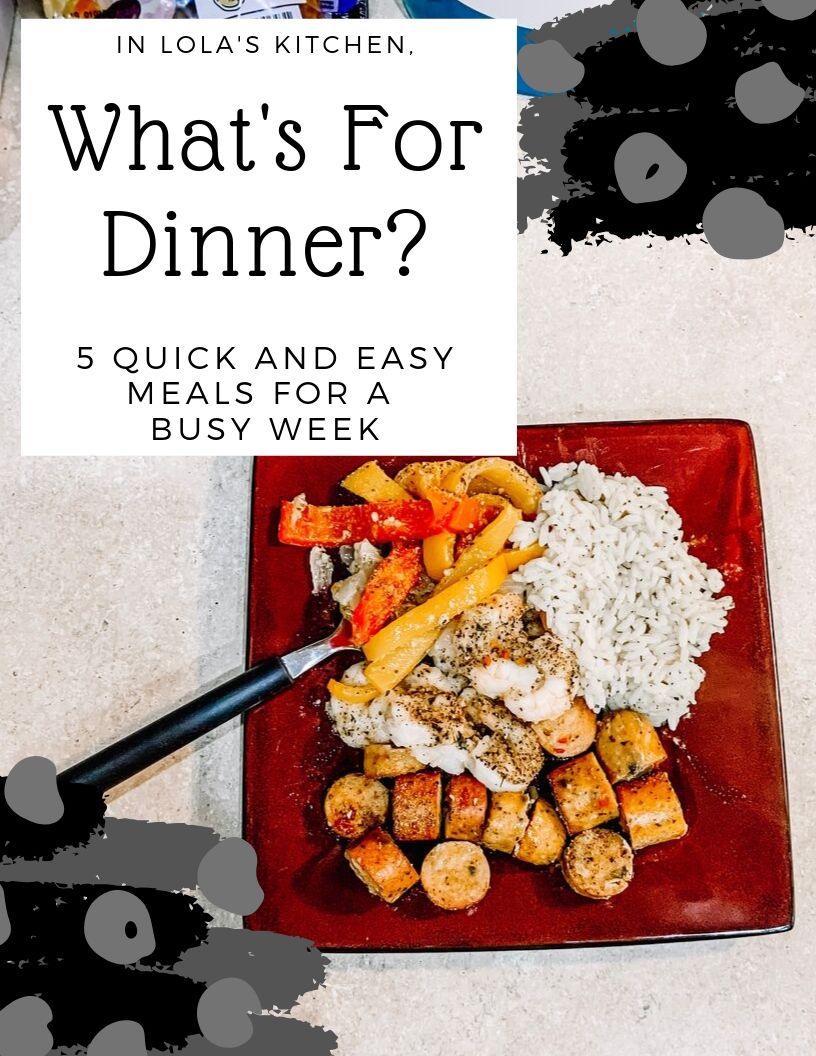 Week 9/30/19
Happy Monday Babes! I'm back again with dinner for the week. These are sure to help fill everyone's tummy without breaking the bank. I switched to a new recipe interface for my posts so that it was easier and now they're pinnable AND printable so you can toss them right in your recipe book or tin if you want. The ingredients for each of these recipes added up to less than $50 for our family of 5 and I was hype. So here ya go, enjoy!

Chicken and Rice Casserole
Quick to put together, just pop in the oven and move on to another task until dinner is done.
Ingredients
4

Boneless Skinless Chicken Breast

1

cup

long-grain white rice

uncooked

1 1/2

cups

water

1

package

Lipton onion soup mix

1

can

cream of mushroom soup

(10 oz can)
Instructions
Preheat oven to 325 degrees F

Spray 9x13 pan with cooking spray. Add Chicken breasts and season with salt and pepper

Pour uncooked rice over chicken. Sprinkle with onion soup mix.

Combine mushroom soup and 1 1/2 cups of water. Pour over chicken.

Cover and bake 1 hour and 15 minutes or until rice is tender.
Notes
It should be noted that this recipe always takes the original poster 1 hour and 15 mintues but depending on your own variables, this recipe can take an extra 25 minutes. 
Cheesy Chicken Enchiladas
It's chicken and cheese so you really can't go wrong, lol.
Ingredients
1

pint

Sour Cream

1

can

Cream of Chicken Soup

(10.5 Oz can)

1

can

Diced Green Chiles

(4 Oz can)

10

Flour Tortillas

2

cups

Mild Shredded Cheese

3

Chicken Breast

(precooked and cut up or use a rotisserie chicken)
Instructions
Preheat oven to 350 degrees F

Combine sour cream, soup, and chilies in a bowl

Take 3/4 cup of soup mixture and slather the entire bottom of a 9x13 casserole dish. This will be a thin layer that will help the enchiladas from sticking to the bottom.

In each tortilla, layer soup mixture, cheese & chicken. Roll up and place in the casserole dish. Top with remaining soup mixture and sprinkle with remaining cheese.

Bake for 20 minutes or until hot and bubbly and cheese is melted.
Notes
This recipe is orginally from Brenda Williams in the Laura's Legacy Cookbook. But the website I found it on was sited and credited on this recipe card with the link. Hope you enjoy!
PARMESAN GARLIC SPAGHETTI
A quick 5 ingredient meal that is sure to fill your tummy when you need something quick but delicious or if you need a quick and delicious side. You can't go wrong with this one.
Ingredients
8

ounces

Spaghetti

10

tbsp

butter

3

cloves

minced garlic

1

tsp

crushed red pepper flakes

1/2

cup

grated parmesan cheese

kosher salt and freshly ground black pepper

(to taste)

2

tbsp

chopped fresh parsley leaves
Instructions
In a large pot of boiling salted water, cook pasta according to package instructions; drain well.

In a medium saucepan, combine butter, garlic and red pepper flakes over medium heat until the butter has melted. Cook, whisking constantly until the foam subsides and the butter begins to turn a golden brown, about 4-5 minutes, skimming foam as necessary.

Remove from heat. Stir in pasta and Parmesan until well combined, about 2 minutes; season with salt and pepper, to taste.

Serve immediately, garnished with parsley, if desired.
Notes
5 ingredients and 20 minutes. How can you go wrong?!
Hawaiian Chicken Bake Recipe
Ingredients
3-4

Boneless, skinless chicken breasts

6-12

tbsp

Barbecue Sauce

1

can

Pineapple Slices, drained

6-8

Slices

Provolone Cheese
Instructions
Lay the chicken breast flat in a baking dish. Spread 1-2 Tbsp of BBQ sauce on each chicken breast.

Place 2 pineapple rings on each chicken breast.

Layer 2 slices of cheese on top of the pineapple on each chicken breast.

Lightly cover with foil and place in the oven for 20 minutes.

Then remove the foil and continue to bake for 15-25 minutes or until the chicken is no longer pink and the juices run clear.

Serve with rice, greens, or potatoes.
Poor Mans Stew
A quick and hearty meal, perfect for fall and winter nights.
Equipment
Slow Cooker (5 quarts or larger)
Ingredients
1

lb

Ground Beef

Browned and drained

1.5

lb

Potatoes

Diced large

3

Carrots

Sliced

1

Onion

Diced

1

Garlic Clove

Minced

6

ounce

Tomato Paste

Can

2

cups

Water

1

tsp

Salt

1/4

tsp

Pepper

1

tsp

Onion Powder

1

tsp

Dried Oregano
Instructions
Add the cooked ground beef, potatoes, carrots, onions, and garlic to a 5-quart or larger slow cooker.

In a small bowl whisk together the tomato paste, water, salt, pepper, onion powder, and oregano.

Pour this mixture over everything in the slow cooker. Stir.

Cover and cook on LOW for 7 hours, without opening the lid during the cooking time.

Serve with buttered sandwich bread or rolls.
Notes
From the OP: This recipe makes about 5 servings. The nutritional value below is for 1/5 of the recipe. Nutritional values are approximate. If you require a special diet, please use your own calculations

Would you like a dessert week too since the holidays are coming? I'll be posting some fun dessert recipes that are quick and delicious and you can take them to any holiday party.
Always Remember You're Beautiful!
-Lola