I love makeup. So I'm constantly trying new things. But this current routine I have going is seriously perfect for me. It's quick, easy and affordable which are three things I'm always down for, lol. So let's get into my everyday beauty products. I've listed the products I use on a daily when doing makeup. I don't go all out with my makeup for regular days, so my routine is pretty straight forward. I want to look put together and awake but quickly. So if you want a quick routine with products that won't break the bank. These are all products that work well on my skin (I'm oily/combination type) and I use regularly. (You can tell by some of the pictures, these are my ride or die always reached for products.)
#1. Brows || Anastasia Dip Brow in Chocolate This Brow gel is literally my holy grail. I honestly don't know why it took me so long to try it. But this has literally been my go to for brows for well over a year now. The pigmentation and lasting power are awesome. It's $18 but you definitely get your money worth. 1 jar has lasted me months. Trust me you won't be disappointed. Browfection Brow Powder Duo I use this powder to set my Dip Brow gel and fill any gaps in my brows that don't take product. The duo is great because you can use one side for more dramatic brows and the other for lighter more tame brows. It's only available at European Wax Center stores but while you're in there get a free brow wax and you can have your brows filled in to try the powder out for free too. NYC Clear Brow Gel I use this to set my brows once I've finished my makeup and before I set my face for the day. It holds up so well and the brush separates my brow hairs nicely. With a price tag of under $4 it's hard to pass up. It's super affordable and lasts so long because you don't need a lot at all.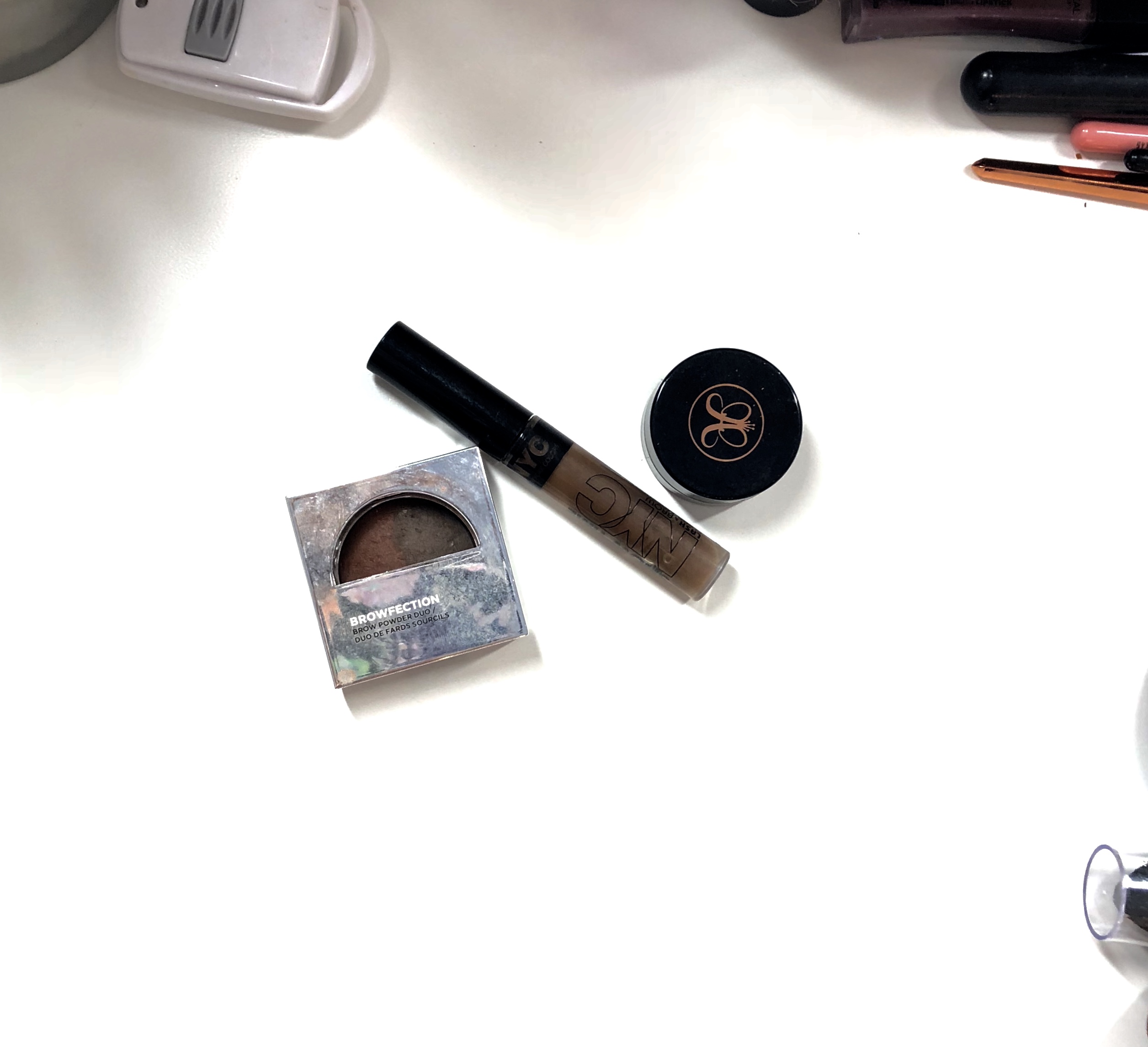 #2. Maybelline FaceStudio Blender|| 95% of the time when I do my makeup I use a beauty sponge. I love how it blends my makeup products into the skin so nicely and makes my foundation look much more natural and skin like. I even use a damp blender for powder, especially when baking under the eyes if I'm wearing a full coverage look. There are so many blenders out there now since the Original Beauty Blender came out (which is still one of the best) but this one is affordable, durable and works great. Coming in at just under $6 I think you will be pleasantly surprised.(Blender shown dry, it almost doubles in size when wet.)

#3. Tarte Shape Tape || This concealer may not be drugstore priced but it's under $30 and lasts for a good while. Plus a little bit goes a long way and I mean that. It only takes a dap to brighten my undereyes and really change my look from tired to awake. I even use it alone when I don't want to wear any foundation at all. There's so many shades to choose from so you'll definitely find a shade for you. You can use this to highlight, contour or spot conceal. You need this concealer in your life, you won't be sorry. But if you wanna save a bunch so you can get more products at once the LA Girl HD Pro Concealer is amazing and under $5. I used it for over a year before trying a new one. Hurray!!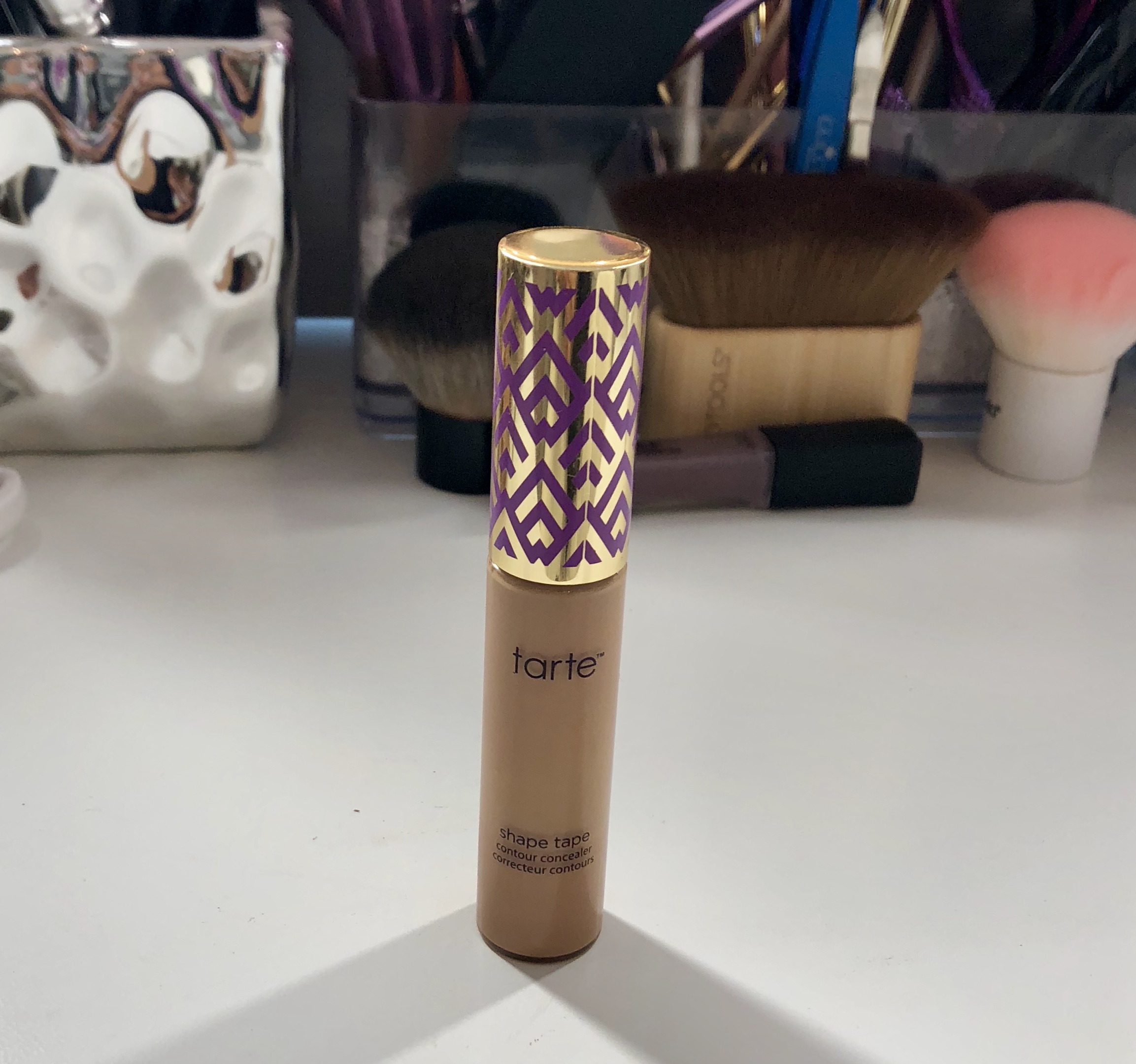 #4. Primers and Setting Sprays || I always use a primer spray before I apply my makeup and after I've moisturized my face. I prefer primer sprays to regular primer because I just feel it sits on my skin and covers more evenly for me for some reason. I love this spray from Wet N Wild, this Photofocus Primer Water Spray is a good one. It doesn't have a harsh or chemical smell, it sprays out evenly and with a $6 price tag you can't go wrong. I highly recommend this one. As far as setting sprays go, these two are my favorite drugstore setting sprays, the NYX Matte Setting Spray and the E.L.F Beauty Shield Daily Defense Makeup Mist are my go to when I don't want to use my more expensive setting sprays. The Nyx setting spray comes in a matte or dewy finish. But I go for matte because of my oily/combination skin. It has certainly shown me more times than I can remember it can hold its own. The Florida sun is not forgiving and relentless sometimes and especially during shoots this spray has locked my makeup in tight. The E.L.F Beauty Shield is a tight second. I love this one because I can use it as a primer or setting spray and I use it for both sometimes. It's especially great when trying to pack light makeup. With an $8 price tag these are both great and I highly recommend trying them. These are literally two of my most reached for setting sprays and best of all they're so affordable so you can stock up and never run out.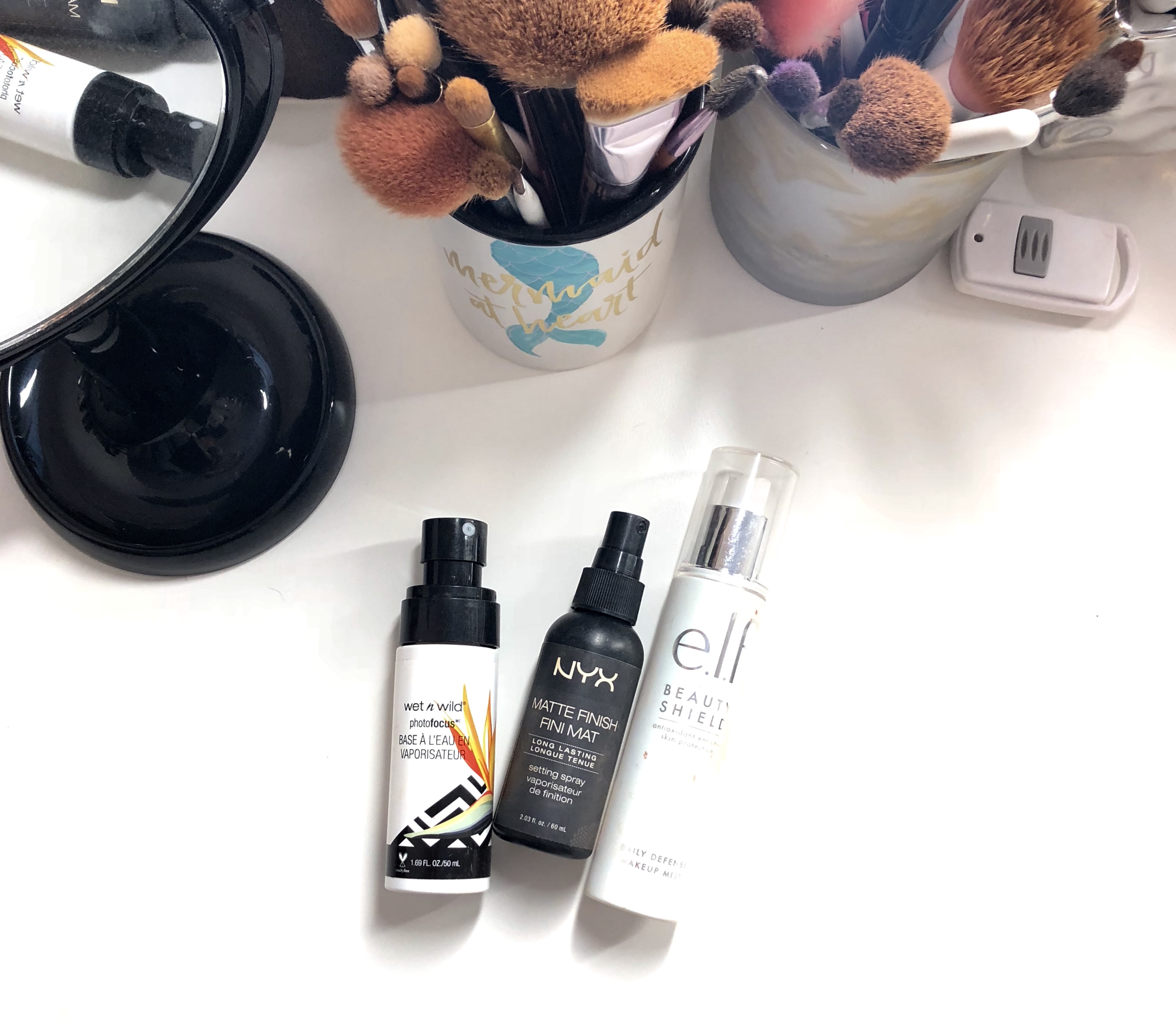 #5. L'Oréal Voluminous Lash Paradise || Now I know some people look at me crazy when I say this but I've never tried the Too Faced Better Than Sex Mascara so I can't attest to whether this is actually a dupe for that. But with a $24 price tag I wanted to check for something a little cheaper because mascara doesn't hold long enough for me to want to constantly replace at that price. But i've heard good things and so many people say it's an affordable dupe. I just love drugstore mascara because it's never let me down, it's affordable and mascara goes bad so quick (you need to be replacing it at least every 3 months) so I've always stuck to drugstore because it's one makeup product I replace quite often. I love the brush and the formula from this mascara. It coats my lashes so well and makes them look longer and thicker. My lashes are a struggle because my nervous tick is pulling at them when nothings on them so I need a mascara that masks how thin and short they are when I'm not wearing falsies. It's under $7 right now at ulta. This one does the job and does it well.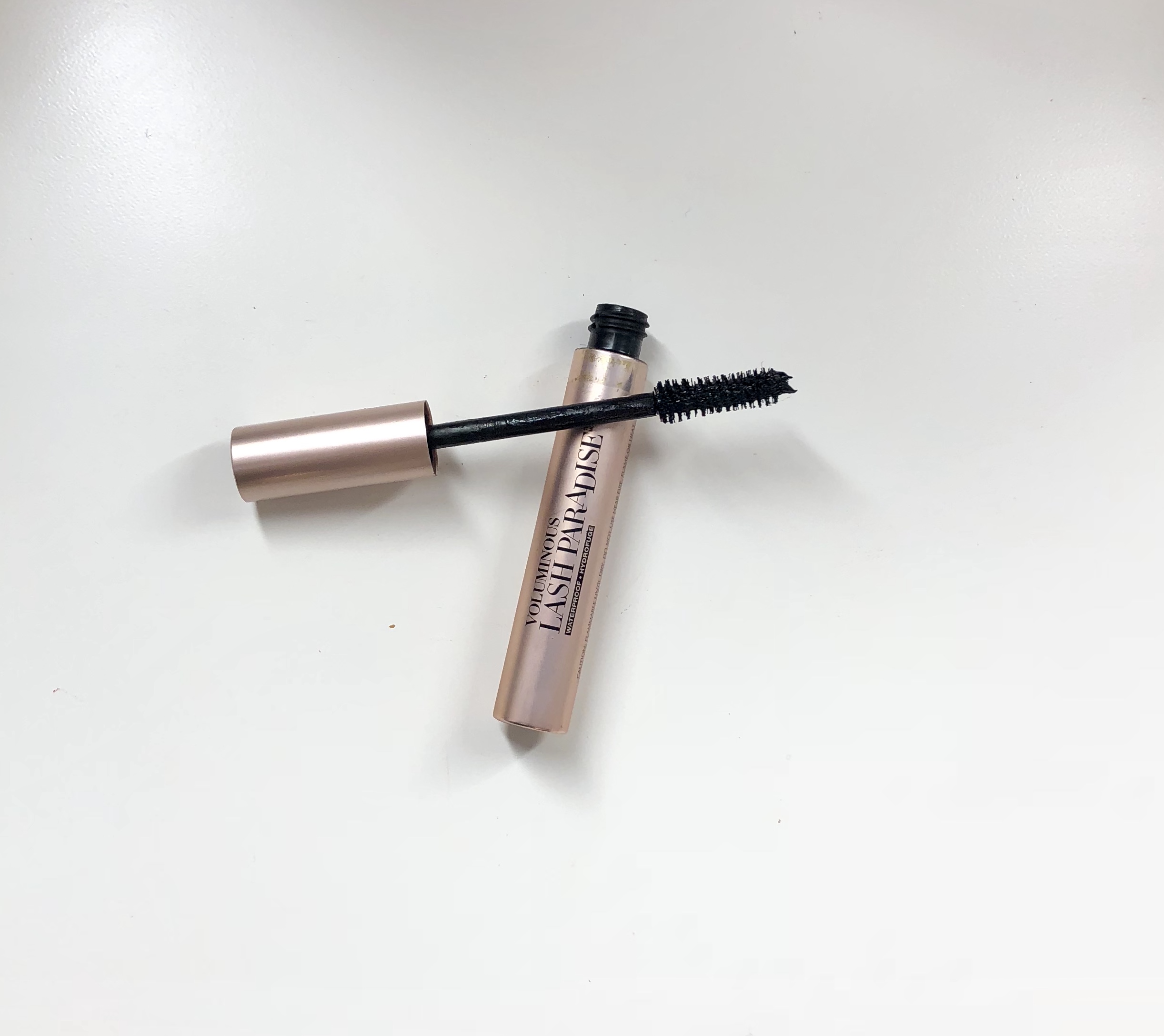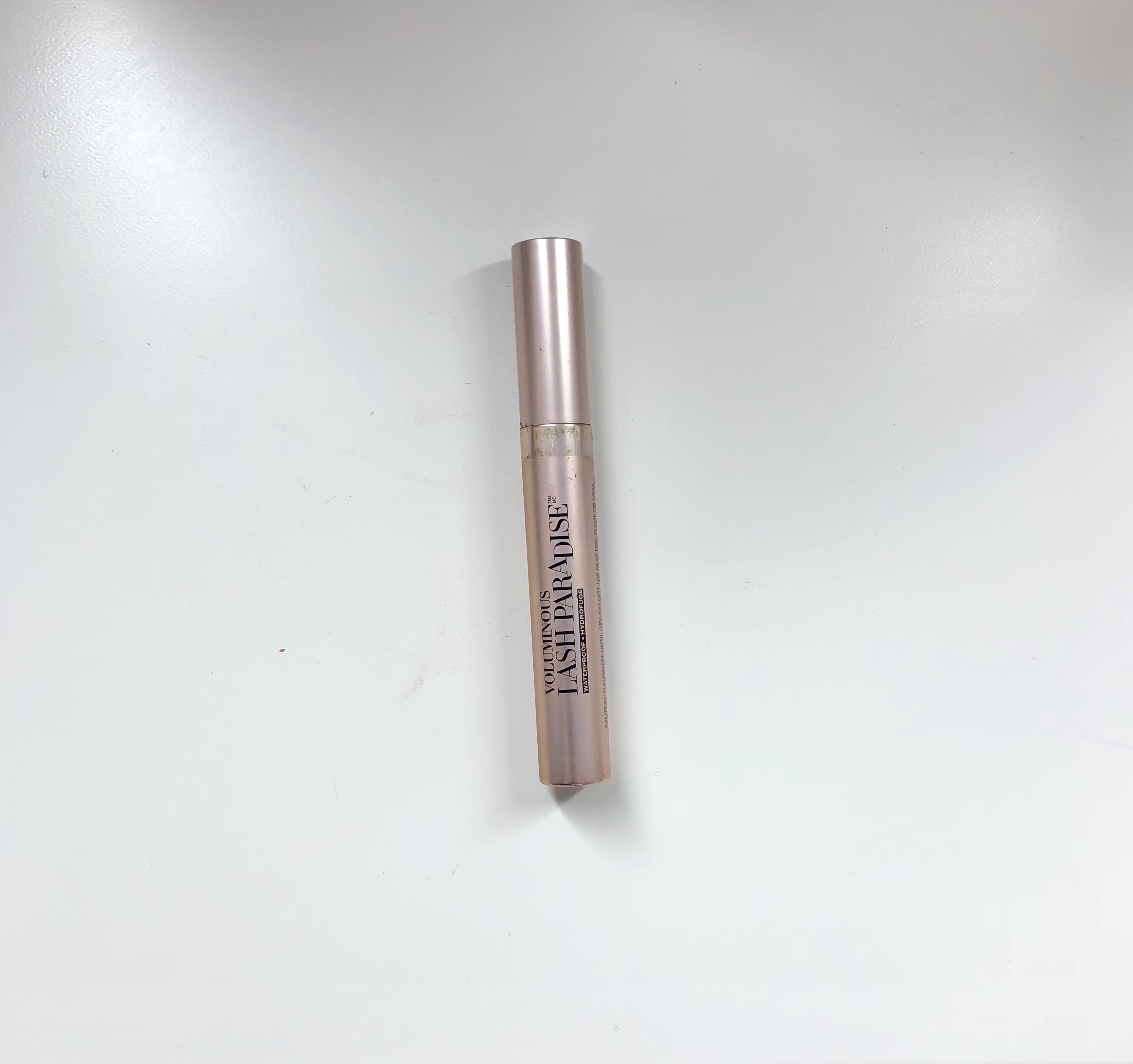 #6. Most Used Makeup Brushes || These brushes are my most reached for. I have so many brushes I probably should use but these are the ones I use the most. Which is why they're dirty because right after I clean them I go back to using them the next day. They're all super affordable and hold up great. They've been through travel, my 3 yr old and many washes. They don't shed or fray and the handles are sturdy. For my brows I use the Morphe M432 and Morphe E11 Angled Brow (I use both my pink one shown is from Morphe also but came in a set) and a brow spoolie that came in a makeup kit I got years ago but the Morphe B74 Angled Liner Spoolie works awesome too. For face my most used brushes are the Morphe MB1 Deluxe Powder Brush, The Wet N Wild Pro Line P55 Brush(the silver set was limited edition but the rose gold set is still available), the Real Techniques Bold Metals Tapered Brush and the fan brush I use is from a brush set I got from eBay years ago but the Morphe M310 Large Soft Fan Brush is perfect.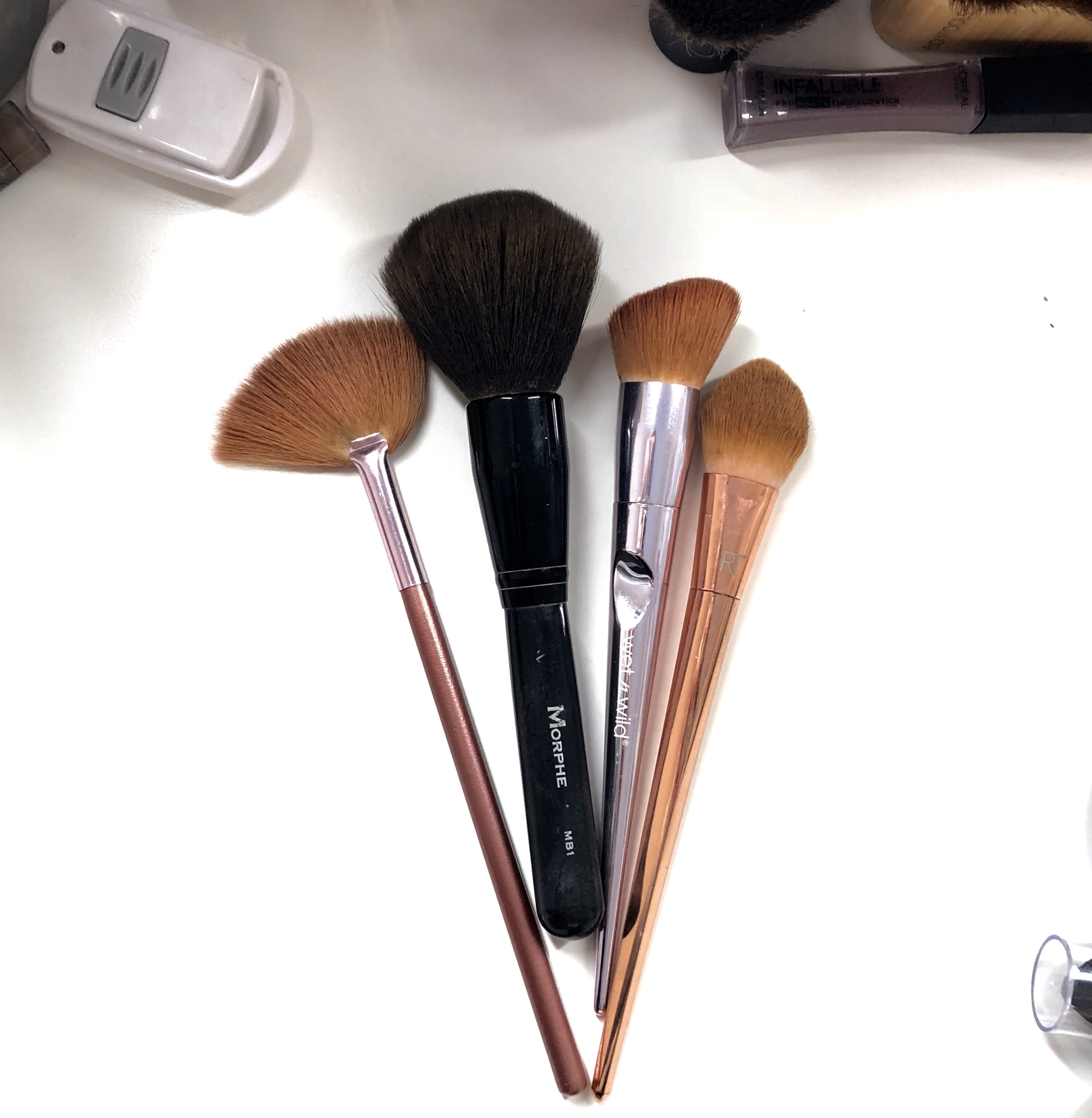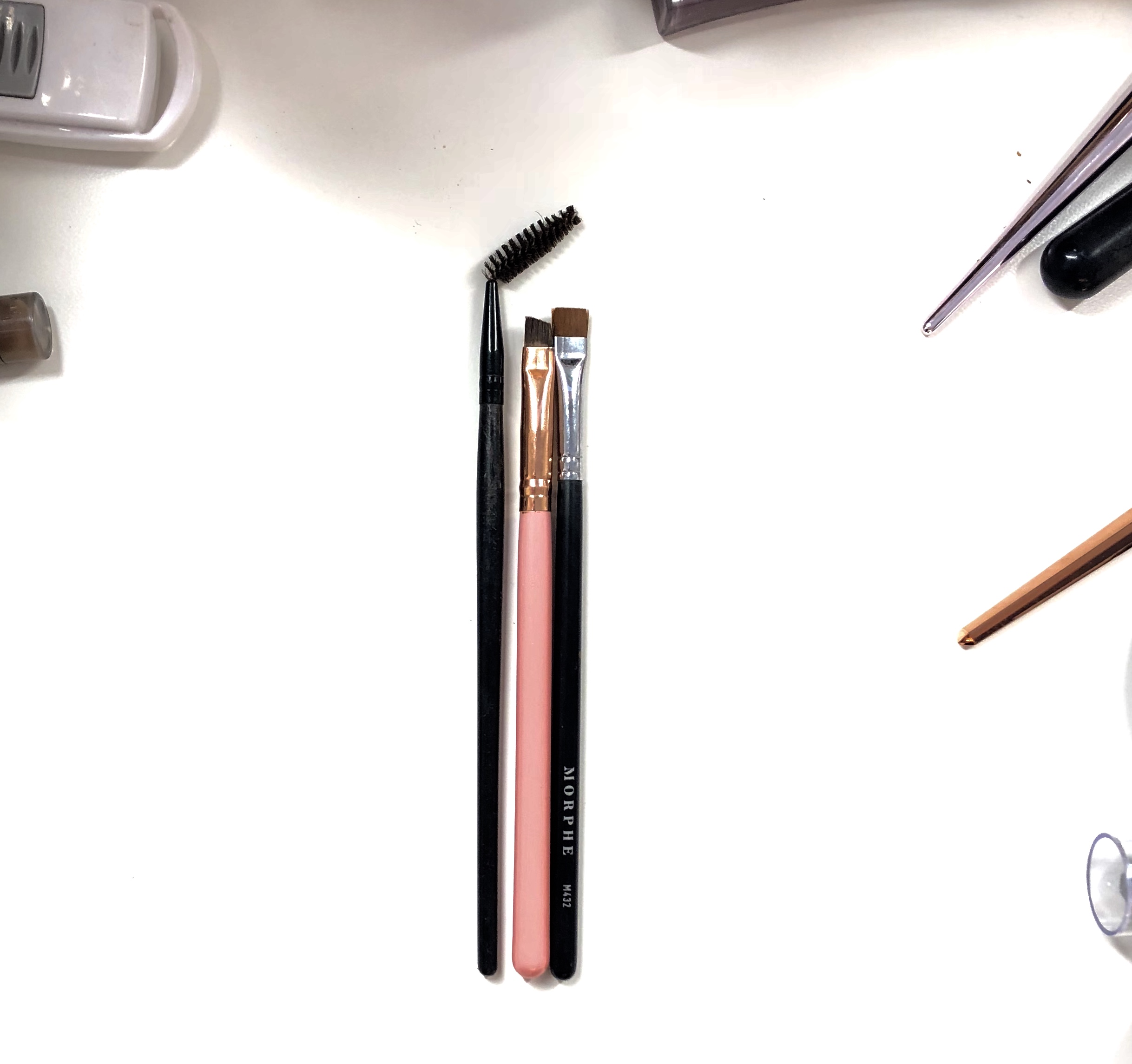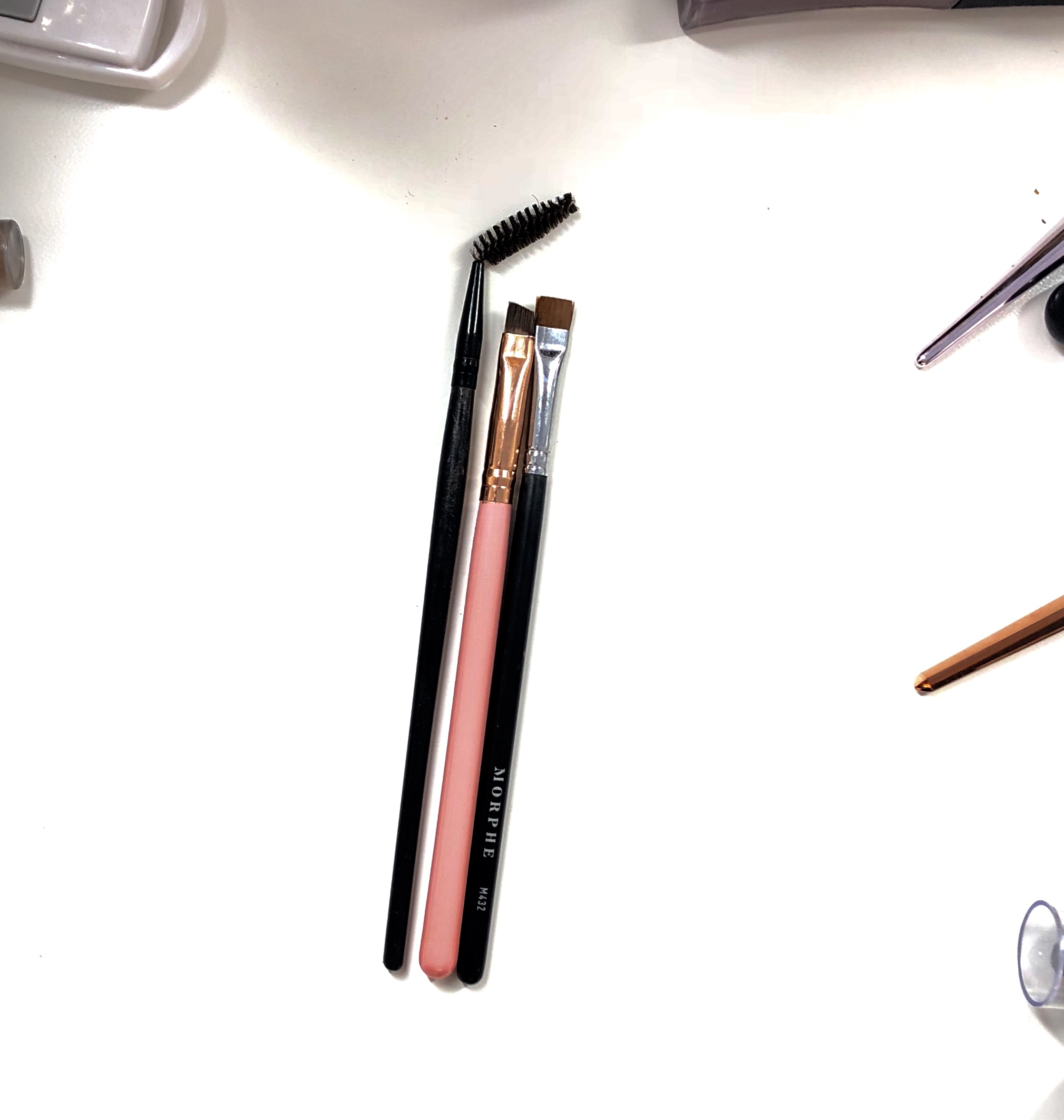 #7. Wet N Wild Highlighting Powders || I am in love with the new formulation of the highlights. Every one that I've purchased so far has been pigmented and so beautiful. These are two of my favorites at the moment. Summer Color Icon Baked Blush in Hummingbird Hype and Mega Glow Highlighting Powder in Golden Flower Crown. Both are so pretty and so smooth to the touch. They just glide on the skin like butter and add the most beautiful glow. At $5 each you can try more than one to find your favorite glow, they even have a Megaglow Highlighting Palette.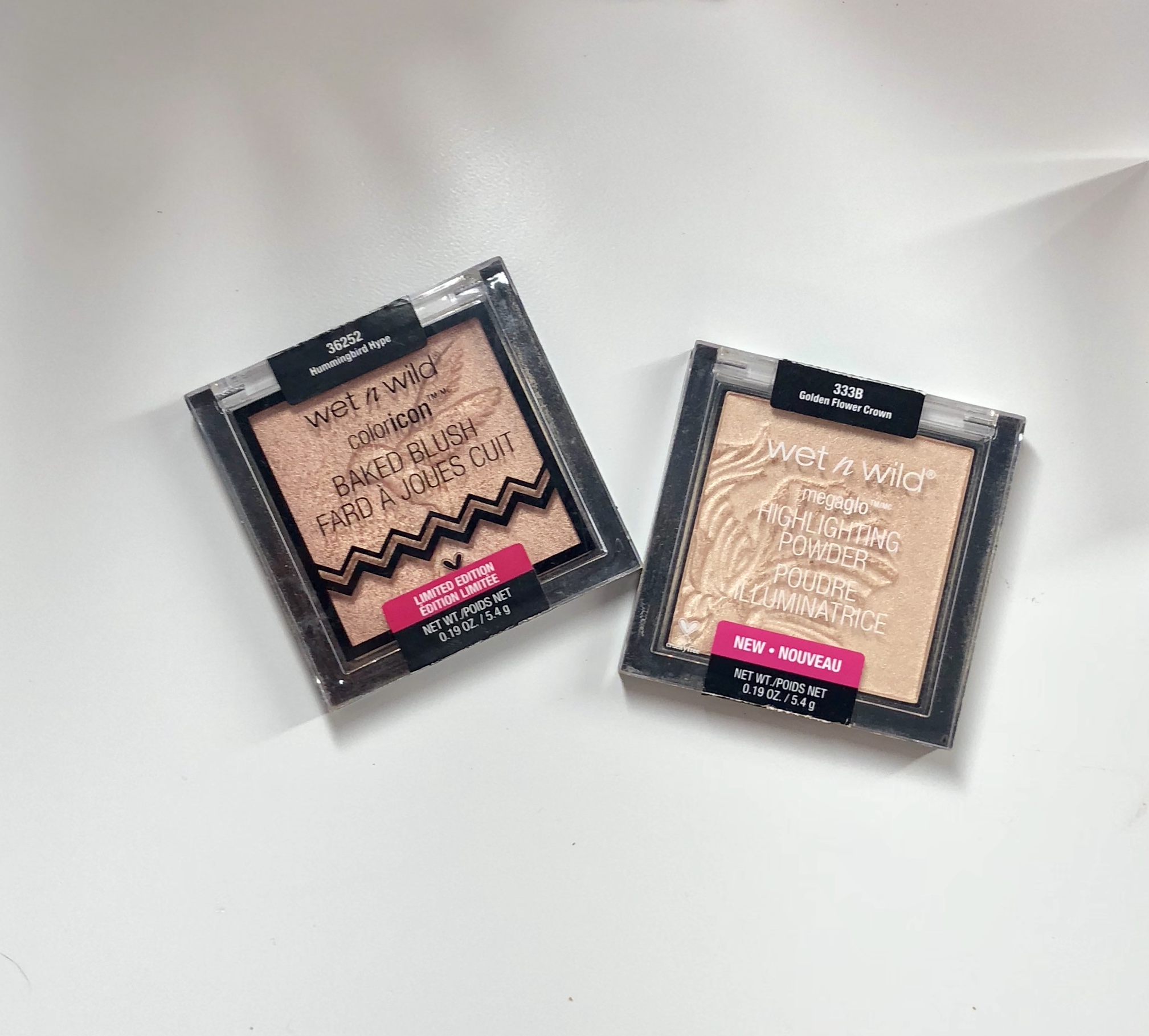 #8. Tarte Amazonian Clay 12 Hr Blush || I received these blushes in my birthday gift from Sephora and in an Ipsy bag and have been in love with this blush ever since. The shade Feisty is literally my favorite color blush and I use it 99% of the time I do my makeup. It's just such a pretty color and looks great on a tan or deeper skin tone. Paaarty is a great color for lighter skin tones and it's the same formulation so the results are amaze as well. They don't have those particular shades available anymore but the Milani Rose Powder Blush in Romantic Rose and Tea Rose are great dupes and under $9. I added these blushes to the list because I have the small size and I'm still using it months later. They last so long so you will definitely get your $29 worth with the Amazonian Clay 12 Hr Blush line.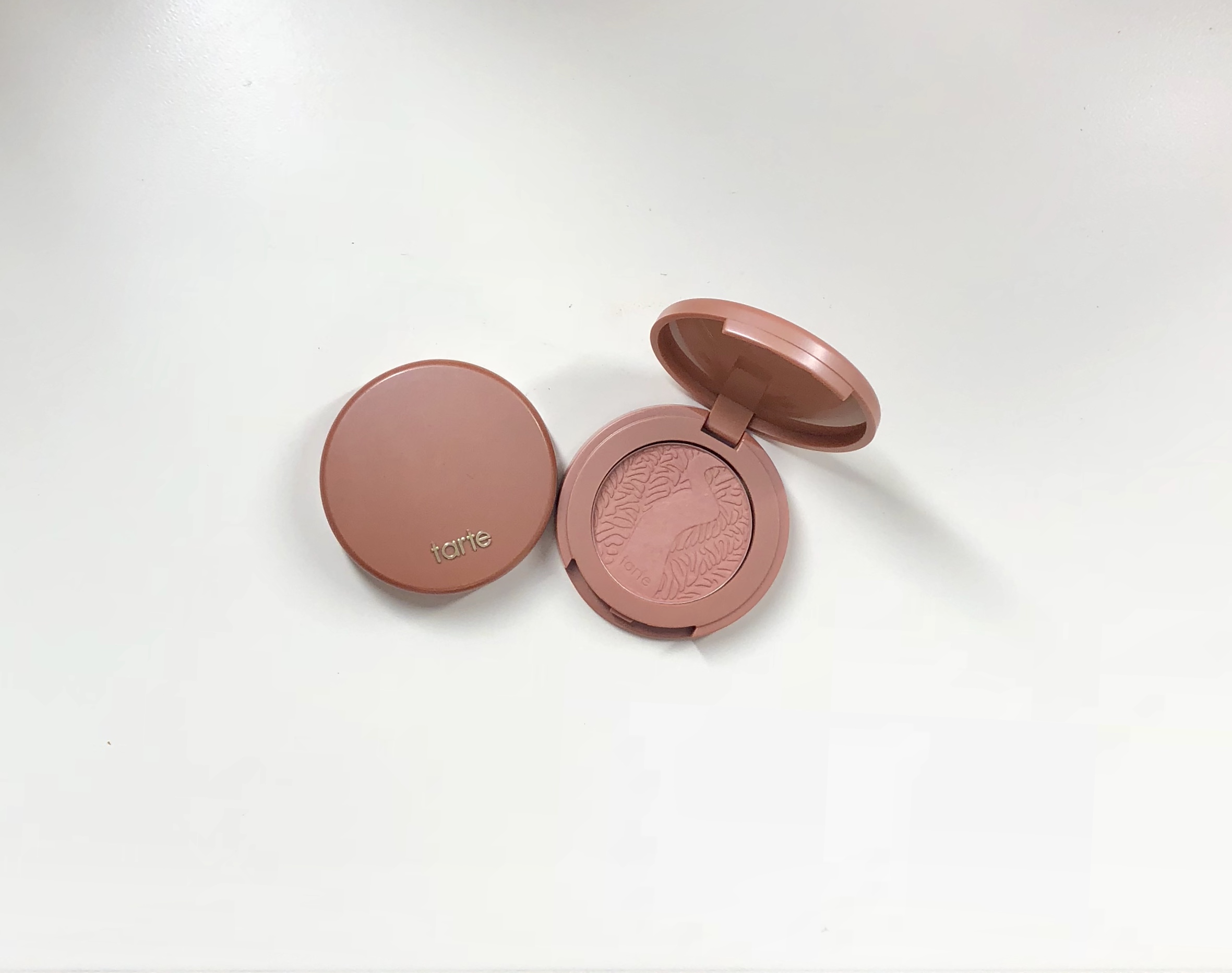 #9. Most Used Lip Products || My Chapstick in Chapstick Moisture Formula is pretty much a simple every day necessity for me. My lips are full so when I sleep they swell and get really dry and chapped. I also use this under any matte liquid lipsticks to keep my lips from getting too dry. Especially since matte liquid lipsticks are my favorite kind of lipstick. Loreal Infallible Pro Matte Liquid Lipstick in Milk and Cookies is literally my everyday lip shade. It's the perfect mauvey nude and the formula is top notch. Literally won't budge and takes Garnier Skin Active Waterproof (Blue Top) Micellar water to get it off. It's under $10 and you get your money worth with this formula.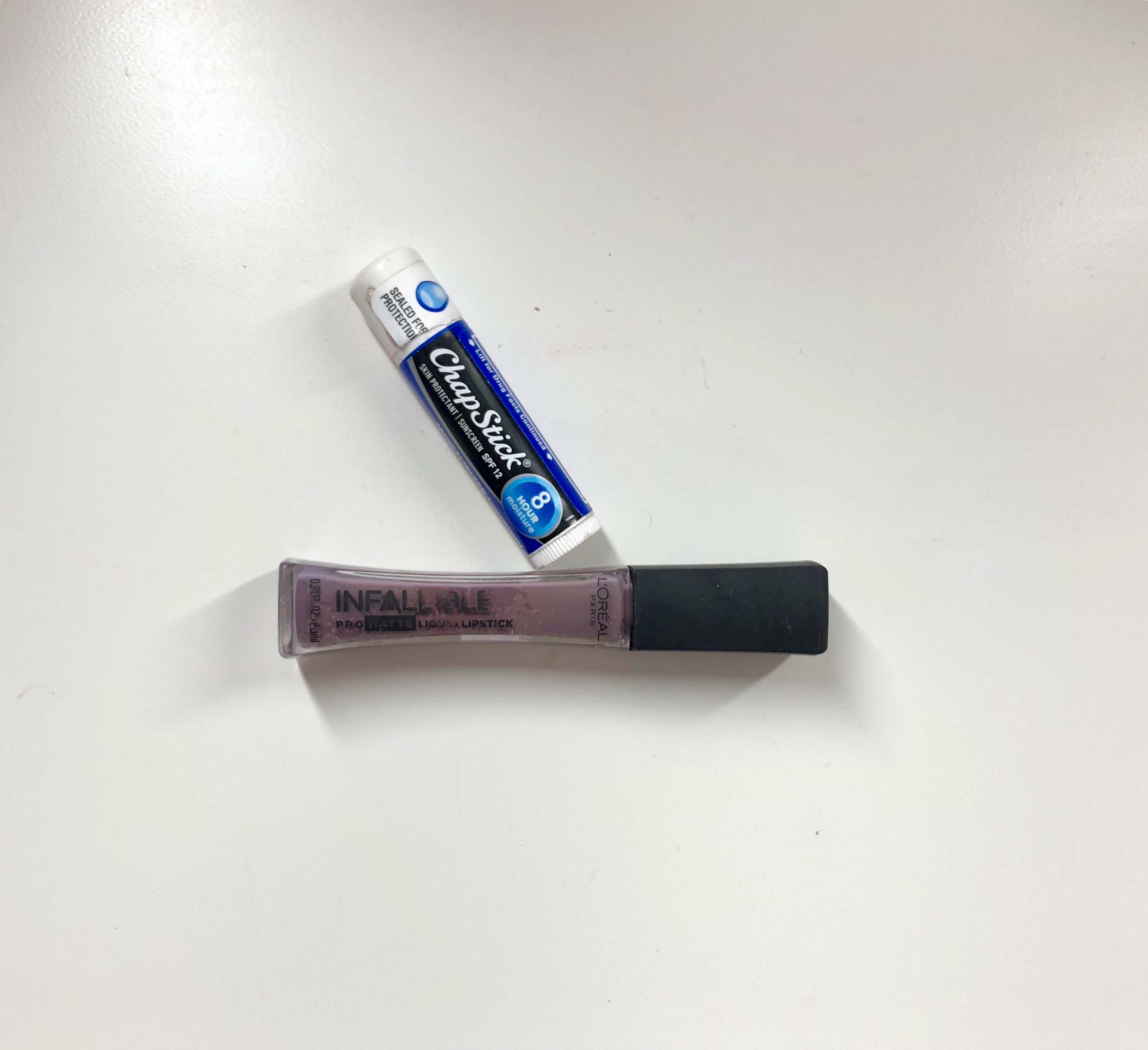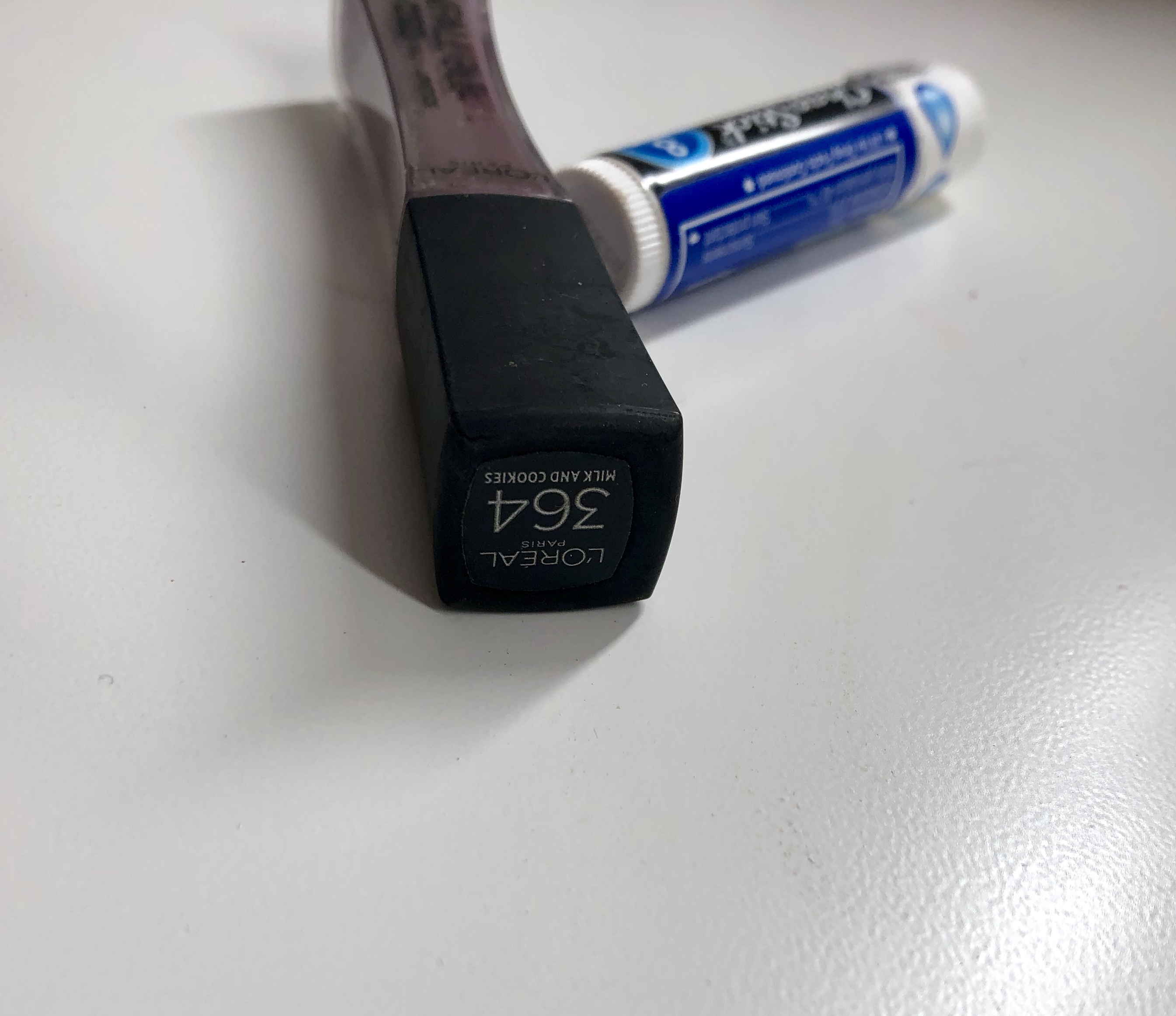 #10. Maybelline Fit Me Loose Setting Powder || This is literally my favorite setting powder so far. Not only is it affordable but it's sooo good. Who knew a $6-8 ($6 at Walmart and $8.99 at Ulta) powder could be so good. I reach for this over all my setting powders right now. I use Medium Deep for under the eyes and Deep for setting all over when I've been out in the sun. The loose formula is so smooth and glides right on the face when applied. Doesn't make you look powdery and no flash back. Definitely in my top must haves for the long haul.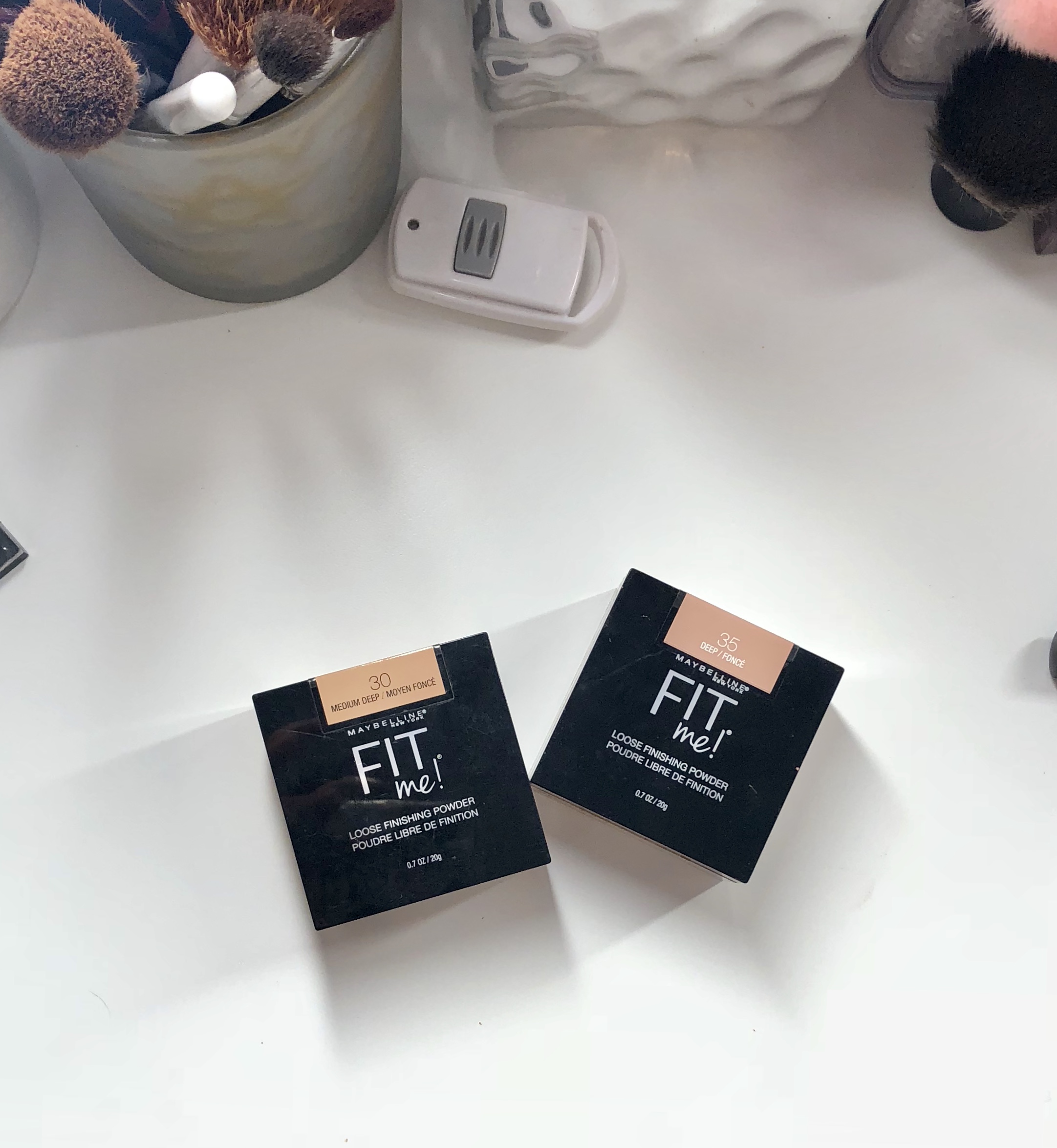 #11 Maybelline SuperStay Foundation Stick in Toffee || I never was a huge fan of foundation sticks. I wanted to love them but every time I tried one I just ended up hating it. But this one I can actually say I'm loving it so far. I apply it to my face and use a beauty blender to blend it out and I just love the coverage and finish I get. Plus it lasts all day and works well with my other everyday products. For under $13 this foundation definitely holds it's own and fits perfect in any small makeup bag or purse.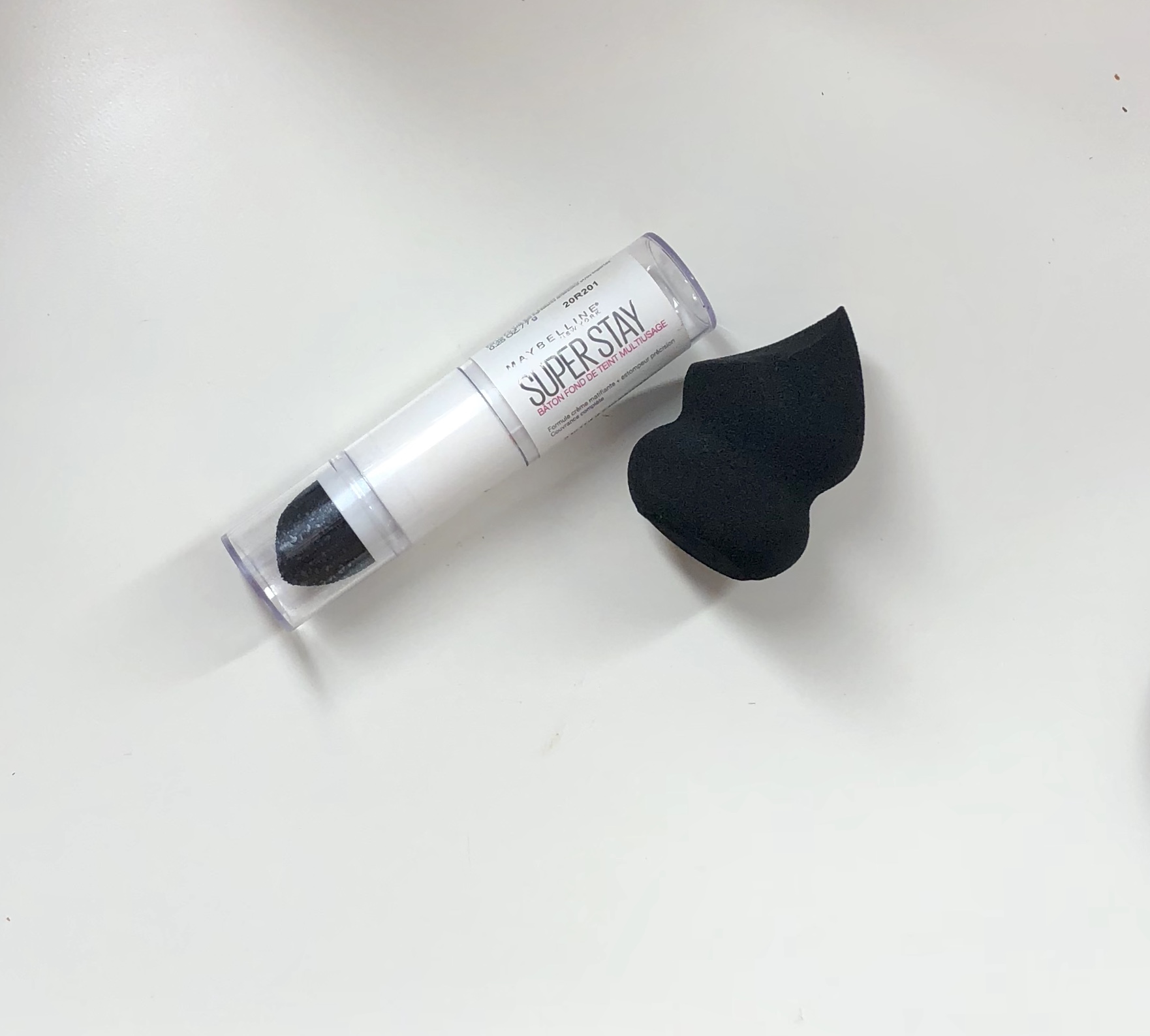 #12. Wet N Wild Pressed Powder in Cocoa || I use this mainly for oil control. Sometimes instead of blotting I'll just dap a bit of this on the area and it helps control my face from getting super oily. It's not a powder I would use to set any makeup but to spot blot it's perfect and under $6.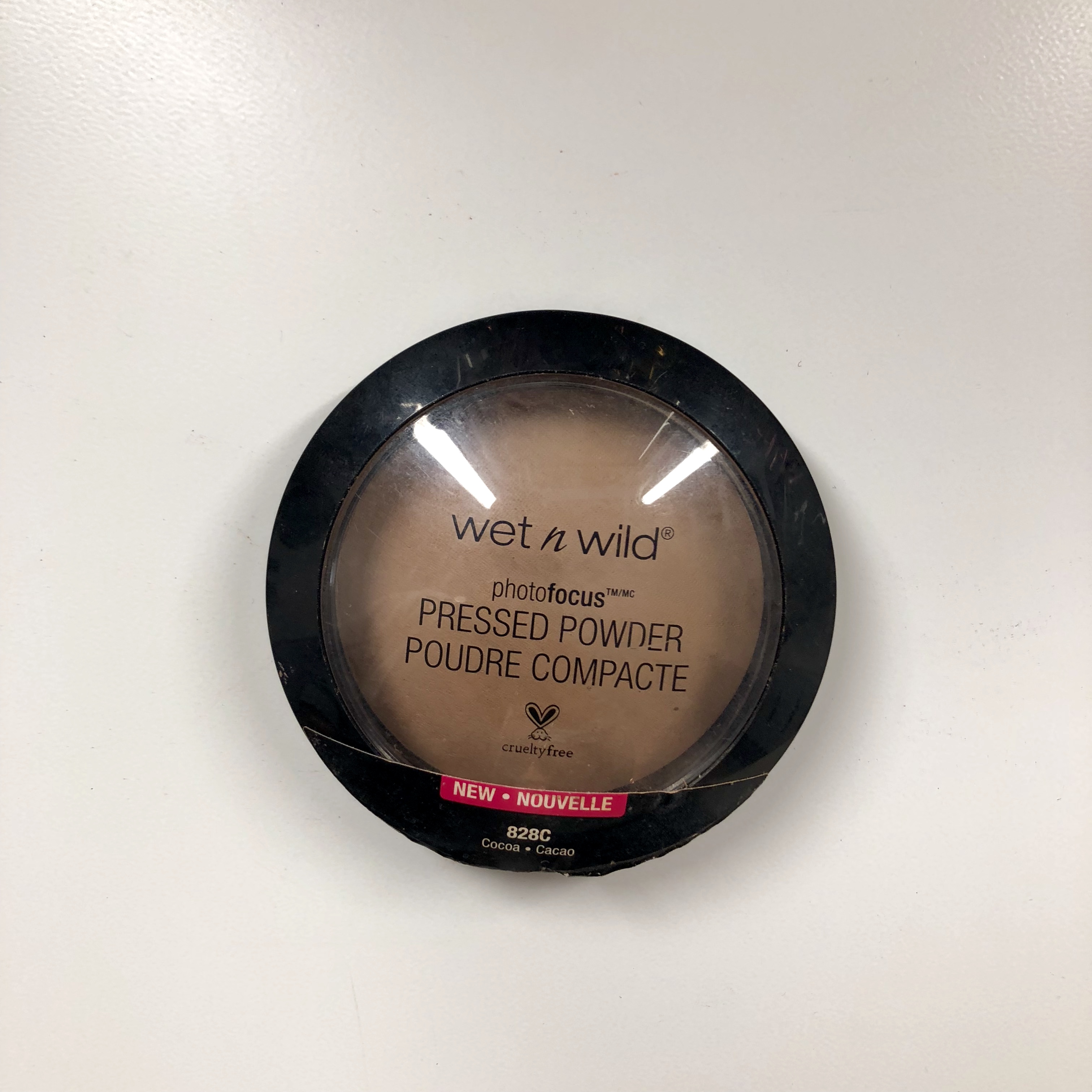 What are your recent summer beauty faves?! I'm always trying new products and would love some recommendations or to try any of your holy grail products. Let me know in the comments and let's chat.
Always Remember You're Beautiful!
-Lola