Hey Babes! So, I'm excited for today's post because it involves one of my most favorite places to shop online. Amazon! I literally go to Amazon for everything and I'm obsessed with my prime membership. We've had prime for years now and it's literally the best thing ever. I mean I'm sure my mailman is tired of seeing my name on packages but ya know, lol. I can get literally anything from gadgets, household items, groceries, clothing, jewelry, ect. I put together a list of things I have purchased recently that I'm loving. Some things I use on the daily and they make my life so much easier. I wanted to share the top things I have purchased that I have taken with me through the years that I still use and love so much.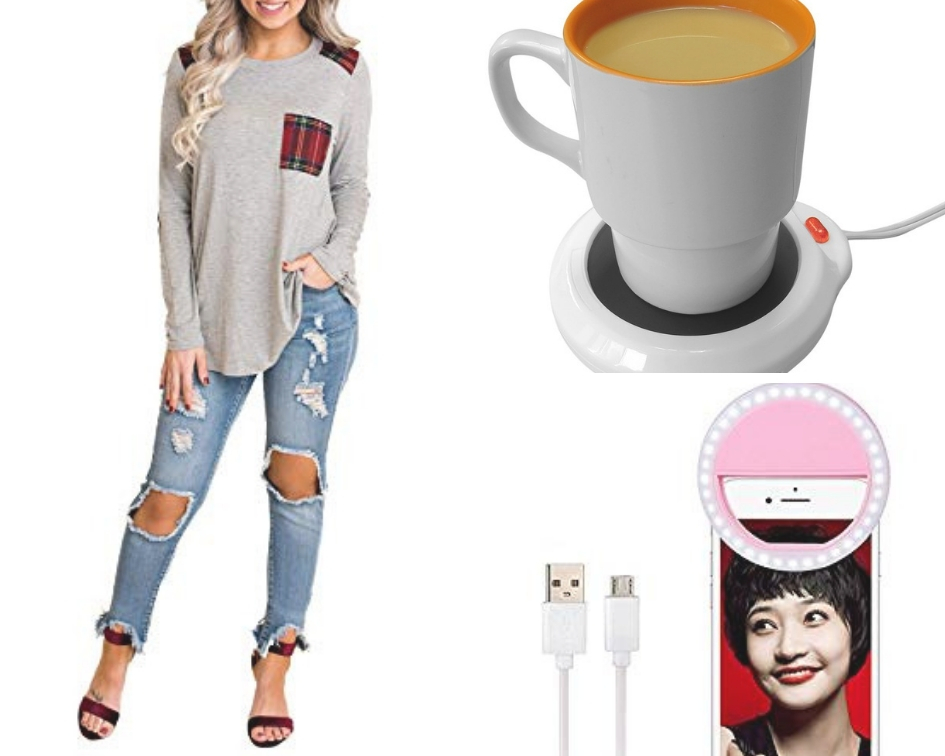 My Favorite Mug Warmer
Evelots Desktop Electric Mug Warmer for Coffee-Tea-Cocoa-Soup-Scented Candles
This little gadget is a life saver for me. Whether you're a busy mom or just busy throughout the day. If you're a coffee drinker like me or even a tea drinker, this helps keep your mug warm so you don't have to revisit the microwave 423234880 times like I did before I got this, lol. I can actually finish a full cup of coffee before making another one.
Plaid Patchwork Top
Blooming Jelly Womens Long Sleeve Shirt Plaid Color Block Tops Pocket Elbow Patchwork Knit Tee(Large,Grey)
I love this top. It's perfect for fall. The plaid detailing is so cute and the material is soft. It is a bit on the thinner side but that works if you live somewhere that doesn't really get that cold like ever and just gets a little cooler but you still wanna be fall fashion forward. It's also not a thick bulky material so its great for layering with a jacket, vest or cardigan. It is TTS and I normally wear a medium but I got it in a Large because I wanted a more oversized fit.
iPhone Rechargeable Selfie Ring Light
Phone Selfie Light, IRuiYinGo USB Rechargeable 36 LED Ring Light with 3-Levels Brightness Portable Clip On Phone, Mini Night Selfie Fill Light (Pink)
Not having the perfect selfie lighting is such a first world problem, lol. But this inexpensive portable selfie light will help your cell phone photos that much better. It's so helpful when you're trying to get that perfect selfie but the lighting sucks. Whether you're in a car, in a dark room or outside at night. This will help make your photos Instagram ready. It's easy to use and rechargeable. It has settings so you can adjust the lighting accordingly and its way more affordable that some other selfie light options. It clips right to the top of your phone and fits in your bag.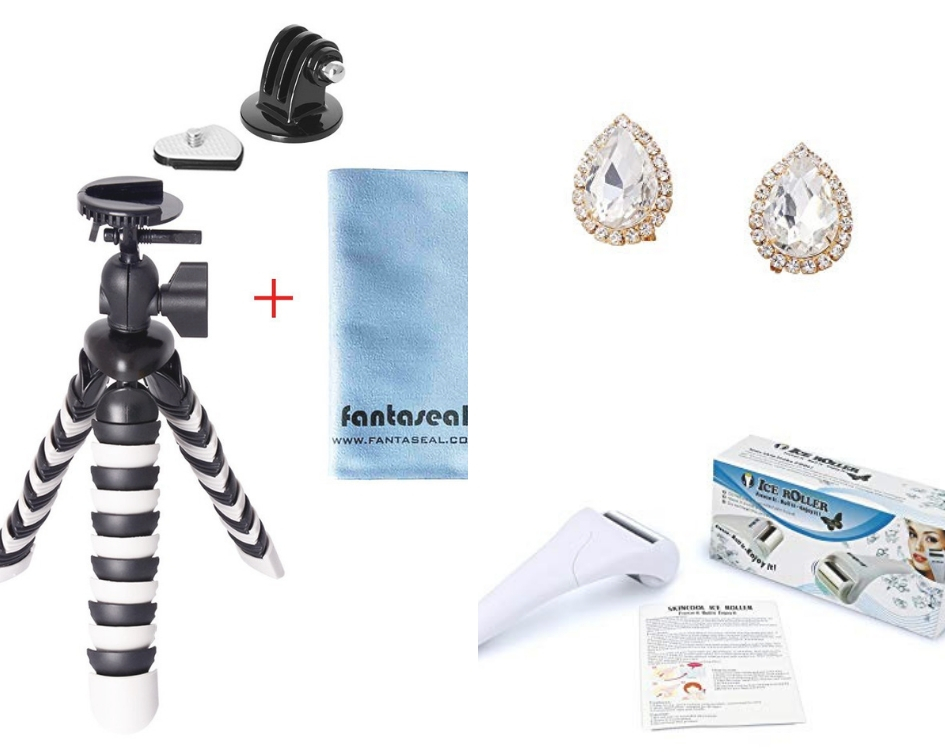 Flexible Camera and Go Pro Tripod Stand
Action Camera Cam Sport Camcorder Mini Tripod Flexible Stand Tripod Compatible with GoPro Hero 6 5/4/3 Session Sony Garmin Virb XE SJCAM Xiaomi Yi Table Desk Tripod Travel Portable Video Tripod
This is perfect and so inexpensive. I use it when we travel and just around town when I want to vlog for my YouTube channel. I have even used it with my DSLR and it still holds it up without it falling over or being too heavy for the tripod. This is perfect if you're just starting out with vlogging or recording videos because it is inexpensive and easy to use and travel with. It fits in literally any bag.
Ice Roller for Face and Eyes
ESARORA Stainless Steel Ice Roller for Face & Eye,Puffiness,Migraine,Pain Relief and Minor Injury,Skin Care Products (White)
I've been loving my Ice Roller. It's the best thing for my tired, hot and overworked skin. Especially living in a hot state like Florida, Ice Rolling has been the best thing I could have stumbled upon for my skin care routine. I have a full post about it here and it also includes some of my current skincare products I use daily. Ice rolling helps with inflammation, makeup application prep, sunburn and so much more.
Crystal Tear Drop Clip On Earrings
Topwholesalejewel Wedding Earrings Gold Plating Crystal Oval Shape Clip On Earrings
These earrings will dress up any outfit in an instant. They're so pretty and look expensive without actually being expensive at all. I have to wear clip on earrings because my ears are gauged and I ripped one a few years ago and keep forgetting to make an appointment to fix it, lol. So clip ons help me to still look fashionable and put together without having to worry about not having normal pierced ears. Amazon has a great selection of them as well. They're great for people with my ear issue or those whom don't have pierced ears or have a similar ear issues.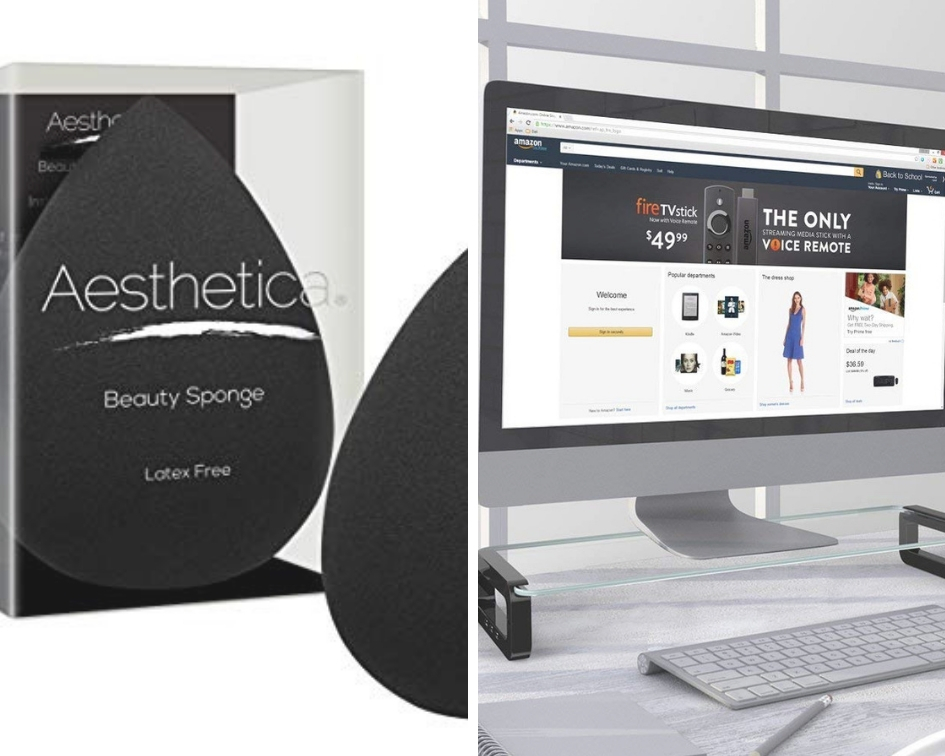 My Favorite Amazon Beauty Sponge
Aesthetica Cosmetics Beauty Sponge Blender – Latex Free and Vegan Makeup Sponge – For Powder, Cream or Liquid Application – One Piece
These beauty sponges are my favorite blenders I have purchased online so far. I have like 4 of them now. I have the Original Beauty Blender as well which I love but these are so affordable and work just as great. They're really great quality and do an awesome job of blending my makeup into my skin and giving me that flawless face look. They also have different sizes so you're able to pick which one is right for you and they're great if you're looking for a more affordable beauty sponge option.
Glass Multi-Function Monitor and Laptop Stand
Eutuxia [White] Tempered Glass Multi-function Universal Monitor Laptop Multimedia Stand with 2.0 USB Ports, Cup Holder & Phone Dock
I have my Mac desktop sitting on this and I love it. Its sleek design gives a nice professional appearance while also helping save space on your desk. It has 3 usb ports so you can charge your phone or anything that has a usb connector. You can also plug-in usb memory sticks, it's just such a help, especially if you work at a desk often.
That's it for this list of my current favs, some that I have been using for years. I love doing posts like this and helping people find good deals that also help with making everyday life easier. If you like these kinds of top choice posts let me know in the comments below and I will definitely put more together to post on the blog. I hope you loves have an amazing Monday!
Always Remember You're Beautiful!
Lola