What's better than a dress? A dress with pockets, lol. I love dresses in the summer time. I really like them all year round but especially in the Florida summer heat a dress can be a life saver. Less clothing to put on and your outfit is complete with just one piece. I'm always nervous to try a new online site especially when I don't know any other long limbed ladies to base size and length off of. But on Sexy Modest there's size references for the models so it helps a ton when shopping. This fun dress is the baseball dress and it sells out quick. I was trying to order the grey one too and it was sold out (cry face emoji, lol).
It fits perfect and has a drawstring waist so you can adjust it to fit your length and waist. It's a soft breathable material and the pockets are pretty deep. I've fit keys, phone, lipstick, toys. You name it the pockets have held it. No need for a purse with this one, lol. The best part is it's under $40, machine washable and fits either just below or just above the knee depending on how you tie the drawstring. I wear it tied above the waist so it looks like a top and skirt.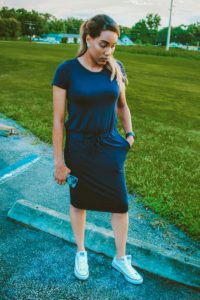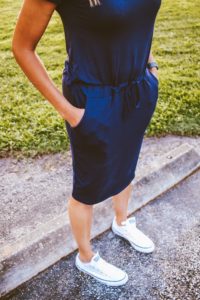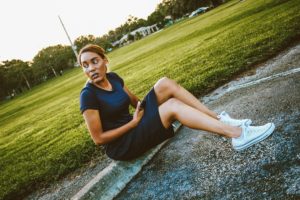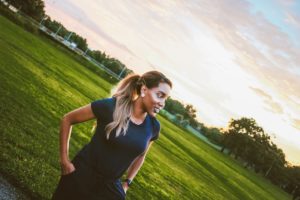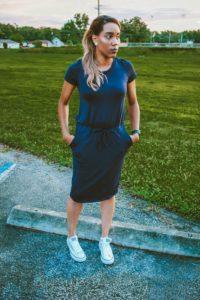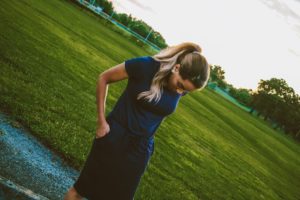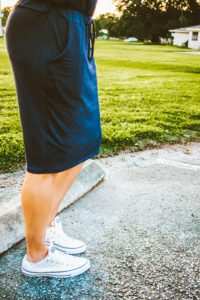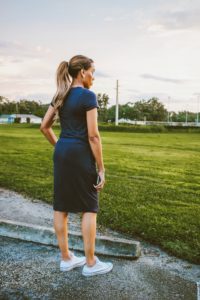 O U T F I T – D E T A I L S
SNEAKERS: Gold Polka Dot Converse | DRESS:Baseball Dress | PHONE CASE: Pastel Succulent | WATCH: Apple Watch | EARRINGS: Clip On | HAIR EXTENSIONS: Zala Hair


FIT TIPS:
-Chucks can run a bit big. I'm wearing a 9.
-Dress runs TTS. I'm wearing a size medium in the color Navy.


Sizing reference:
I'm 5'8″. Typically wear 9-9.5 in shoes and a size 10 if they run small. M/L in tops and dresses. 6-8 in Jeans depending on make and brand.




I will definitely be making more purchases from their site. Shopping was so easy and shipping was quick. I ordered and had it within a week with no extra shipping charge. What are your favorite clothing items for summer?
Always Remember You're Beautiful!
-Lola