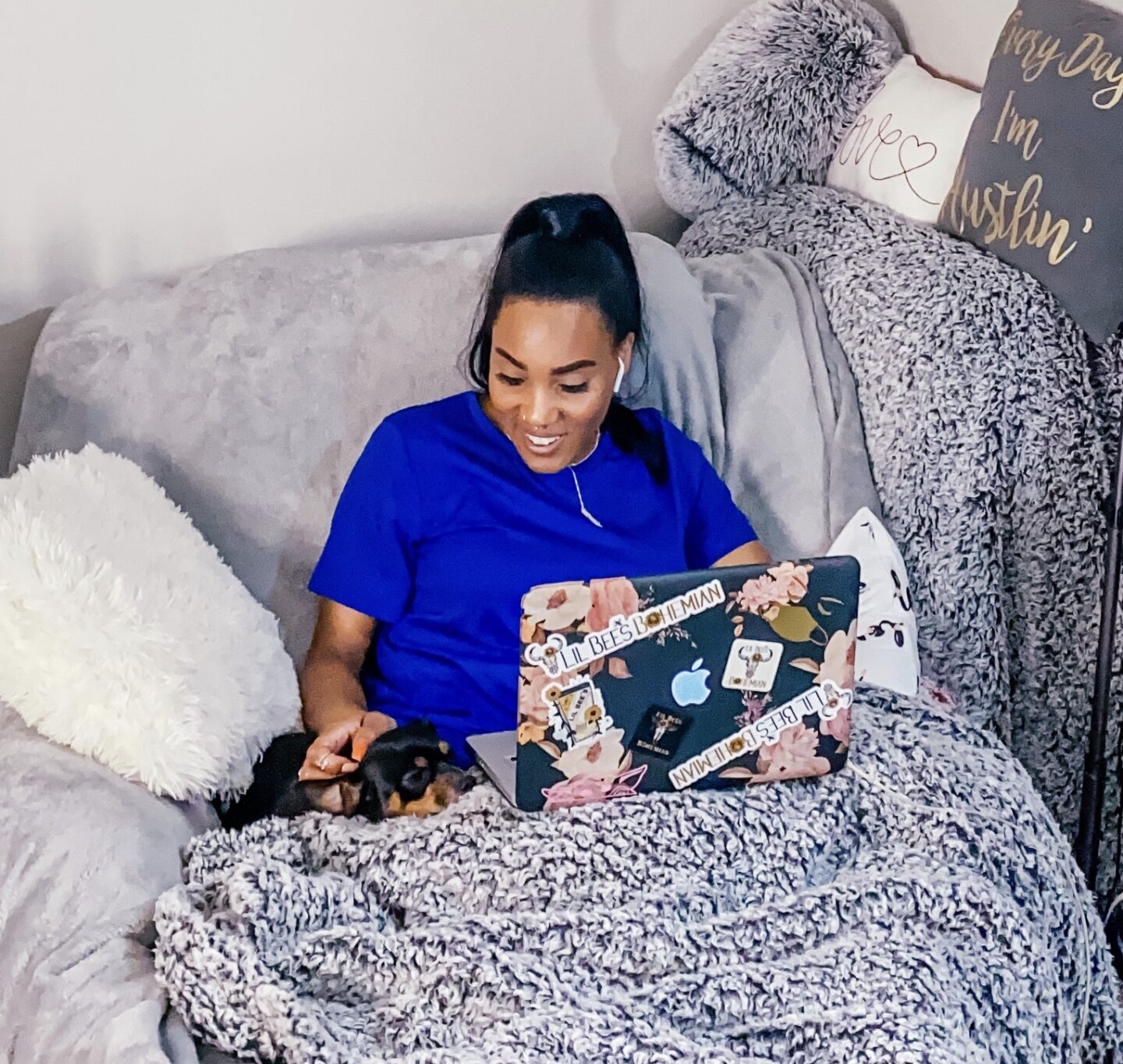 I'm back and with an update on how I've been doing with the blogging course, I've been taking from, LadyBossBlogger. With Coronavirus still rearing it's the ugly head, working from home is becoming an even bigger dream of mine. Especially if I can work from home doing something I love.
Now that my kids are going to be full-on digital learning for at least the first half of the school year, the need to work from home is immense. That's why I need to learn everything I can about turning my blog into something profitable as well. Online shopping has been a huge part of my life especially recently with everyone being at home due to shutdowns worldwide. The dream of getting to work from home, which is something that is completely feasible with the right tools, a little perseverance, and a love for working from home in your jammies all day.
Now more than ever people are shopping online because they either can't go out or just don't want to at moment. So while the online shopping momentum is growing now would be the time for me to develop a plan that can both help others find the good deals they're looking for and for me to grow my blog following.
So let's talk a little about what I have learned so far from the LadyBossBlogger course during the second half: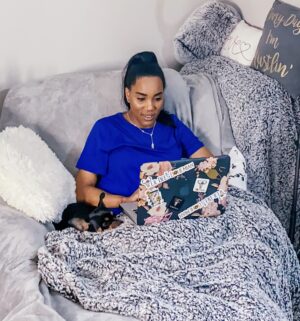 LET'S TALK ABOUT BRANDING!
In my last post, I talked about the different things you will learn while going through the LadyBossBlogger course. Within those sections, she goes in-depth on how important branding your blog is and the steps you need to take to make sure your domain, tagline, colors, logo, etc are all aligned to help bring in the loyal followers that will love your blog, trust your advice and want to follow and buy from you.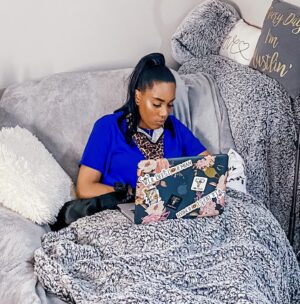 DID YOU KNOW THAT COLORS ARE IMPORTANT?
You may not think about it (I sure didn't) but the colors you use on your blog play a big part in whether or not someone will want to start or continue reading your blog. Colors give off feelings and emotions and if your blog doesn't emit the feeling the reader is looking for then they just won't be interested in reading or following your blog. You want to make sure that the colors that you're using, from your background to your photos are emitting the feeling and emotions you're trying to convey through your blog and your posts.
WHAT ABOUT YOUR FONT?
It's very important to make sure that not only are the colors you're using coming off correctly but make sure that your font is a good choice as well. Make sure that you have fonts that work well together and are also visually appealing. You want them to be eye-catching but also readable. Choose two fonts that work well together and stick with those. Think visually appealing and if you have two similar fonts, try using one font in all caps to give them a distinct difference.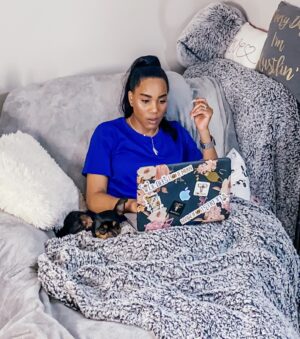 LET'S NOT FORGET GOOD PHOTOS
You want to make sure that the photos you're putting up on your blog are good as well. You want good high-quality photos or professional stock images to go with your actual posts. The words and what you're blogging about are important but a bad photo can cause a reader to not want to go any further in the post and then you've lost a reader simply because the visuals just weren't there. Sometimes it's better to not have visuals at all if the quality just isn't there in the photos you took. The LadyBossBlogger course goes over in-depth how to make sure your photos are just as awesome as you're blog post so that you're not losing readers simply based upon a poor quality picture.
NOW LET'S TIE IT ALL TOGETHER…
Now that you've figured out colors, fonts, a good tagline, and great photos. You want to tie together all your hard work with a great Theme. You can either use free themes, WordPress or whichever blog hosting site you use will have some free templates that you can add to your blog to give it a professional and pulled together look so that your blog looks more put together and easy to navigate through or there are some really great paid themes out there as well. I used a free theme for the first few years of running my blog until I felt it was time to make my blog look a little more professional and I wanted to add a few things that free themes don't give you the flexibility to do. Find a theme that fits both your personality and the feelings and emotions you're trying to emit to bring in new readers and keep them coming back.
That's it, That's all! The most important topics about how to make your blog more appealing and bring in those loyal readers all in just ONE of the modules that's available in the LadyBossBlogger course. I'm currently going back, rereading and taking notes on some sections I want to make sure that I have taken away the most information and knowledge that I can to make sure I succeed at my goal of being a full-time blogger by the end of 2021. I have been searching and spinning my wheels and struggling for years with blogging and not really knowing what I could get or what blogging could really be. But with this course, I feel confident that I will be able to succeed in becoming a full-time blogger just by using all the tools and step by step guidance the How To Start A Money Making Blog course has given me.
With that said, don't forget to head over to my Instagram @lolanicoleblogs to make sure you have entered my giveaway. Follow all the rules of the giveaway in the post (the last post with my favorite red boots on).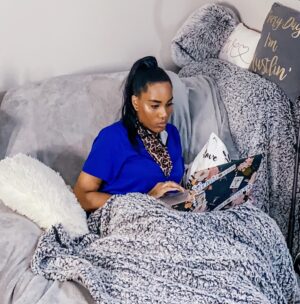 If you want to dive into a course now, just use my discount code LOLANICOLE for 40% off a course of your choice. Just go to www.LadyBossBlogger.com and enter the code LOLANICOLE at checkout or click the link below:
https://ladybossbloggercourses.com/?affcode=238290_oojgi7kq
For additional resources check out:
7-Day Make Money Blogging
21-Day Build A Better Blog
5-Day Master Affiliate Marketing
3-Day Become An Instagram Influencer
I hope you all enjoyed this post and are ready to take the next step to turn your blog into something profitable. If you have any questions please leave them in the comments below!
"Always Remember You're Beautiful!"
-Lola